Interview with Damien Kirk Part 2
To kick off the month of October and the release of my first contemporary romance from Samhain, I'm doing a four-post series on Devil Falls. There's a chance to win a free copy of Devil Falls each week, so tune in. :)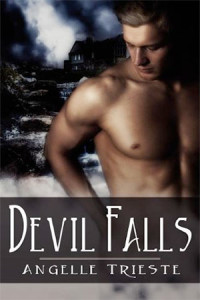 Genre: Contemporary Romance
ISBN: 1-60504-220-X
Length: Category
Release Date: October 28, 2008
Publisher: Samhain Publishing, LTD
All he wants is silence. All she wants are answers.
Damien Kirk was once a world-renowned cellist, celebrated across five continents for his musical gift. Now he lives in self-imposed isolation on a small Caribbean island.
Biography writer Victoria Benedict is looking for a story…and she's not the type to take no for an answer. Her appearance on his doorstep shatters his reclusive existence.
Determined to be rid of her, Damien demands a quid pro quo: a kiss for each answer to her interview questions. Her response is as arousing as it is unexpected. As Damien and Victoria escalate their sensual game of cat and mouse, Victoria discovers the passionate soul underneath Damien's cold exterior…and a shocking story of secrets and betrayal.
Warning: This title contains the following: sex, scorching kisses, killer breakfasts, a hot tropical island and a happily ever after.
Interview with Damien Kirk Part 2
Two weeks ago, some of you submitted your questions for Damien. So here are his answers to the five randomly chosen ones:
Susan: Why is it do you suppose that men think the sharp, fierce, grouchy routine is going to scare very determined women away? Have you ever considered that it makes them want to see what is beneath the surface?
Damien [shrugs]: Because it works, of course. I think of it as a triage of sorts. Females approach me all the time; I need something to separate the women from the girls. And in Victoria's case, it worked like a charm.
Sandie: I'm with Victoria. What did Damien mean when he said "I don't need another death on my conscience" ?
Damien: It does make one wonder, doesn't it? [Smiles nastily] Perhaps you should be careful. Some of the locals think I eat children.
Deidre: What purpose does you having dogs serve? Surely, someone as insufferable as you can take care of himself.
Damien: Would that insufferability conferred some type of protection; I might cultivate the quality. Alas, mere insufferability is not enough to dissuade the more obtuse of the paparazzi. Ludwig and Amadeus, however, function quite nicely in that capacity. Also, they are excellent companions. They're loyal and obedient creatures.
Beth R: Can you explain your side of the scandal? What happened?
Damien: To which scandal do you refer? There have been so many…
Tami: Where is your favorite place to have sex and what position?
Damien: To a true artist, any venue can be an inspiration for the Venusian arts. As for positions, if you must know I prefer "The Cello", female front, with a straight-backed and sturdy chair.
Feel free to comment. One lucky commenter will get a copy of Devil Falls on October 28.
Finally, the last week's winner is Deidre (Commenter #1)! Please contact me for your prize!