My First Real Pets!
I've never owned a pet in my life. My mother was very much anti-pet (because she hates shedding, cleaning up after animal poos, etc.). So basically I have no idea what to do with animals in general.
But Hero Material loves animals (he grew up with many different pets), so he decided that we should have pets.
Drum roll please…!
We bought two hamsters.
With their cage and everything, we spent about $50 at the pet store near our apartment. Although Hero Material's first choice was a dog, we couldn't due to our lease.
So meet Shiro and Kuro: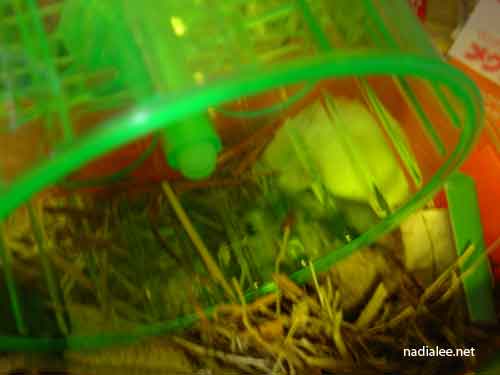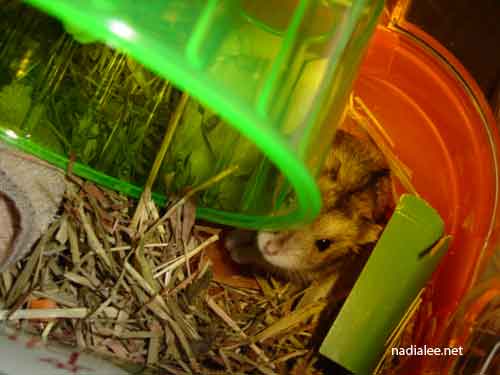 Shiro is the white hamster. She's very camera-shy, so I apologize for the picture quality. She's also very feisty, and she tried her best to run away when Hero Material took her out of the cage. Also she's the athletic one of the two. She spent about half an hour or so running in the wheel. I think she wants to try out for London Olympics.
Kuro is not as shy, but quite lazy. She likes to fling the dry herb and leaves we put in the cage (the pet store recommended it as it deodorizes the cage), but she doesn't like to do anything on the wheel, except possibly peeing. She's been eating some carrot bits in the cage.
I'm not getting any work done because I can't stop looking at them. I think they're still getting used to their new environment, and they're rather shy, but I think I'm in love.
BTW — do you have (or have you ever had) hamsters? If so, got any advice for me? :)