Men's Premium Bra (Comes with Matching Lacy Bikini Panties)
Last night, Hero Material and I were surfing channels until we saw something so strange that we had to stop and watch: Men's Premium Bra.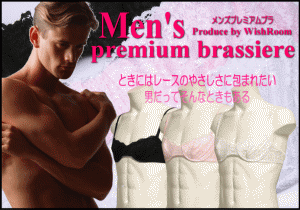 At first, I thought it was a joke, but none of the people on the show was a comedian, which meant it probably wasn't.
The panel featured a company called WishRoom, which designs and manufactures bra for heterosexual men. You'd think that the company would've gone bankrupt within a week, but no. It turned out that men actually like wearing bras in three beautiful colors: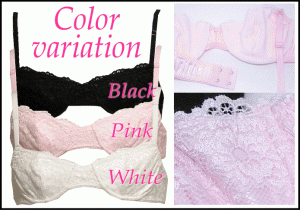 According to the male panelists on the show, the bra promoted "a sense of security". I'm not sure what kind of security they were talking about since the word they used was "anshin" — peace of mind. Can you imagine the kind of customer testimonials?
Before I discovered WishRoom Men's Premium Bra, I dreaded the day my manly breasts would plunge to my knees. Now with the extra wire support, I can wear my dress shirt with confidence.

Thank you, WishRoom Men's Premium Bra!
Now, the company sells matching lacy bikinis and thongs. So you can buy a set for about $50 / each.