Mountain Bandit Shack
After years of talking about it on my blog, I've decided to post some pictures of the place. (I went there today to gorge myself…! :mrgreen: )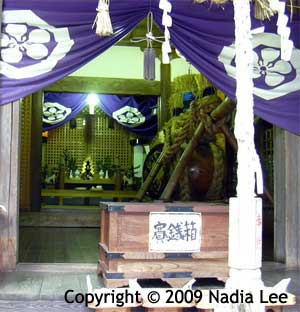 The place is up on a big mountain in Yamaguchi Prefecture, and it has its own altar. It also has a nice shrine and several stone statues of Buddha, although I have no idea why the small ones wear red hats and bibs.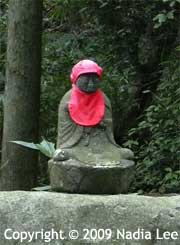 When I first saw it, I thought maybe it was a baby Buddha and needed some extra…er…help to keep clean or something. Occasionally you see one yen or five yen coin offerings around the mini-Buddhas, but this time I didn't see any. Must be the recession.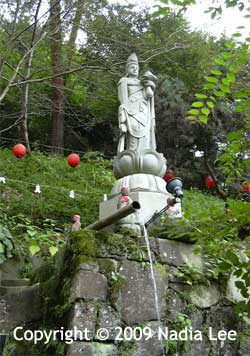 This is a water outlet near the Shrine of Vending Machines. It has a huge Buddha surrounded by baby Buddhas wearing red bibs. Again, I'm not sure why the big one isn't wearing a red bib except that maybe it's because he's their father and thus needs to look dignified…?

There are three spotlights around him as well, so that he can be lit at night. I've never been up at the Mountain Bandit Shack past four PM, so I have no idea if people worship him or pray to him or anything like that. I'm sure people do pray for good luck at the shrine though (the real one, not the one of Vending Machines).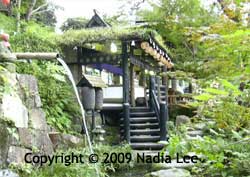 Now, this is just a thing of awesomeness: the Shrine of Vending Machines. It's a little hard to see, but it's there in the background under the roof. Ever seen one anywhere else? No? Me either. It's near the parking lot, with seven separate vending machines that sell everything from Coke to cold chocolate to hot chocolate to ice cream. One thing it doesn't have is a beer vending machine. Not that the Mountain Bandit Shack doesn't have one of those, too — it does — but it's far from the Buddhas and the shrines.

Maybe to show some respect?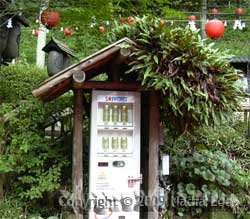 Not that you have to go that far. Respect or no, the place has a beer vending machine. How can any hot spot in Japan be complete without one? Beer vending machines are everywhere you want them to be, except maybe at some somber war memorial or something.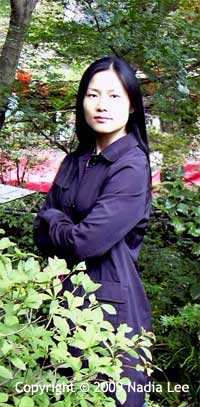 And here's me looking around for a table. Guests get to sit wherever they want, so it's important to find a good spot — not too sunny but not too chilly. I look serious in the picture because it's a serious business.

And the picture on the right is me wondering, "Is that ours?" every time a waitress walked by with food.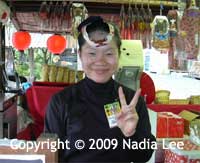 This is our waitress, doing double-duty at the gift stand. (Check out her uniform. Everyone there wears that funky head thing and a black shirt & pants.)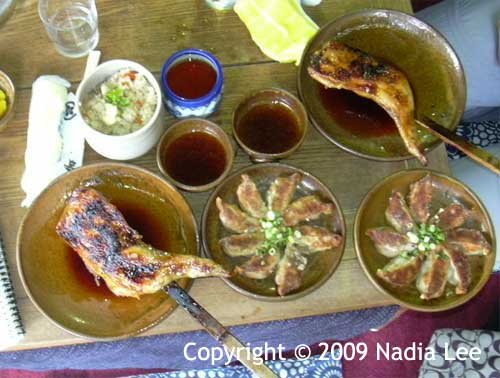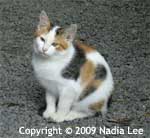 Finally, we get fed! Just look at all the food! My favorite steamed fried rice with veggies and meat and so on, my favorite saucy chicken on a stick and my favorite gyoza! Everything at the Mountain Bandit Shack is extra delicious.
Nom nom nom.
Oh…and we had a visitor. I think he was hoping for some scraps, but alas, there was nothing left for him.
Gomen ne, neko-chan!