Samsung NC10 Warranty Adventure Part 1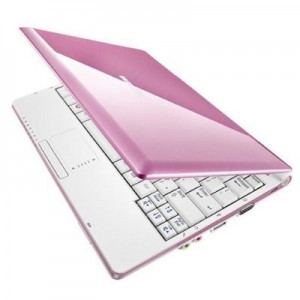 On June 19, I bought a pink Samsung NC10 in the States. The unit had a manufacturer's sticker stating that it came with a 1 year international warranty. This is a big deal to me since I'm not usually in the States. If the unit hadn't come with the international warranty, I would not have bought it. (I would have bought a Toshiba netbook since Toshiba has a worldwide warranty, and I've used its service before.)
On October 6, the unit booted, but had a problem with the monitor. It'd sometimes go blank white during boot-up, so that I couldn't see the BIOS or Samsung logo. (This is a very bright white screen, not just going blank.) Also when I adjusted the angle of the monitor, the blank white screen would flicker. At some angles, the monitor remained completely white.
I researched the matter by googling and going to a couple of netbook forums, including sammynetbook.com, and saw that there were many other Samsung NC10 users with similar monitor issues. I decided that it was probably a hardware problem.
So on October 7 at 12:41 p.m. I called Samsung in America. I spoke with two different agents. We've checked VGA driver and firmware. I have the latest version, so we ruled out updated driver/firmware problem. The agent thought it was a hardware issue. He gave me a claim number, but told me that I cannot get my unit fixed until I returned to the States as the warranty is only good in the States.
I explained my situation (the manufacturer sticker promising international warranty, etc.), but the agent said he couldn't help me. He transferred me to another division. The new agent told me I needed to send her a picture of the sticker as a proof. I emailed one to her.
On October 8 at 9:20 a.m. Eastern Time, I called Samsung again as I hadn't heard any status update and I wanted to make sure the picture was delivered. I managed to get the same agent, who told me she'd received my picture and was able to see that the sticker indeed said 1 Year International Warranty. She told me she'd talk with her supervisor and let me know. I never heard back.
On October 9, I sent an email to the agent requesting a status update. She didn't respond.
On October 12 at 10:44 a.m. @SamsungService contacted me. I sent him a detailed email explaining the situation. He responded that NC10 comes with an international warranty and that I should contact Samsung Japan.
So on October 13 (now all date & time in JP), Hero Material called Samsung Japan for me since they do not speak English. They told him to call another number. The new number is for Samsung International Warranty Japan, and I called since they have three language options: English, Korean and Japanese. I chose English, and the service center automated menu said they were too busy to take my call. So I left my number as instructed. No call back. I was very very unhappy — ready to start #SamsungFail on Twitter because I was that upset. (It would've been satisfying, but I'd still be without a working netbook.)
Today I called again. I tried both the Korean and English lines, but they were all busy, so I left my number with both. An hour later, a Korean rep from Samsung HQ called. He was very pleasant, very professional and apologetic. He explained that their system can accept up to twelve digits for phone numbers. Mine is thirteen. So he was missing the last digit. So he tried to fill it in from 0 to 9. Unfortunately the last digit of my phone number is…yes, you guessed it: NINE.
He asked me what was wrong. I told him about the problems, and he said it was probably a defective cable. He said Samsung doesn't have a repair center in Japan, but they'll fix it at the Samsung Repair Center in Korea. He assured me that Samsung will arrange for pickup and delivery and that I don't need to pay for anything. Furthermore, he told me I don't even need to pack it myself. He said FedEx will take care of everything once I hand over my netbook. After taking my address and contact info, he said FedEx will call within two days.
Two hours later, FedEx Japan called to schedule pickup. I asked them to come after lunch, and they said they'll be pick my NC10 up between 1 p.m. and 2 p.m.
W00t!
Lesson learned: Bypass American call centers as much as possible if I need a defective unit serviced while overseas.
Things Samsung can improve on:
Making sure that their American service reps know what kind of warranties their products have.
Ensuring that their reps respond to customer requests on status updates.
Things Samsung did well:
Contacting dissatisfied customers on Twitter to resolve the issue.
Having great service reps in Korea. (If it weren't for the rep who went above and beyond the call of duty, I'd be launching an FUQ campaign against the company. As it is, I think I may use NINE as the title for a book at some point.)
Based on my experience, will I buy Samsung products again? Yes, as long as they're covered under international warranty.
I'll post an update to this once I get my netbook back from the Samsung Repair Center in Korea.