Uber Cuteness — Meet Shiro & Peanut!
I know I talk about my hamsters a lot, and some of the blog pictures are a bit low quality, so Hero Material took some good ones.
Here are three pictures of Shiro & Peanut. Shiro is a pearl white Siberian hamster, and Peanut is the first son she had with Kuro.
First up — Shiro. This is her surveying her kingdom. Hero Material and I call her Kuiin Hamu (Queen Hamster).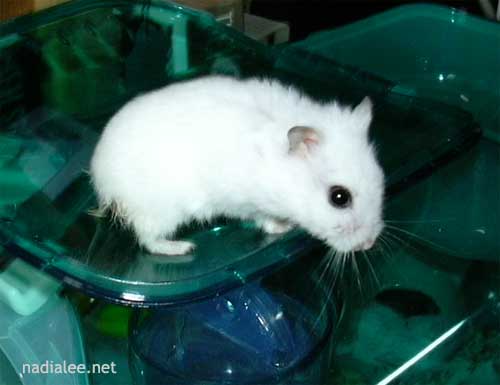 The next two are pictures of Peanut. He's very even-tempered and sweet. He adores eating egg yolks, and as a matter of fact, he's eating one in one of the pictures. (He looks very ferocious when he eats.)
Aren't they just adorable? :wub: