A Buckeye Girl Reads Loves A HAPPILY EVER AFTER OF HER OWN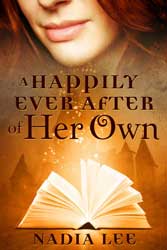 As you know I'm totally excited about the Winter Olympic Games, and I love connecting with other people via Twitter. Not too long ago, I met A Buckeye Girl Reads (a.k.a. Colette / @buckeyegirl31) while discussing figure skating, esp. Sasha Cohen's "comeback", with Heather (@BookObsessedGrl). This is an Olympic year, so of course we got talking. ;)
So color me surprised when Colette Twittered me on Monday and told me how much she loved A Happily Ever After of Her Own. I hadn't even realized she'd subscribed to my newsletter to access the novella. So of course, when she asked me if she could review it, I said, "Sure!"
Without further ado, here is the main part of her fabulous review of A Happily Ever After of Her Own:
I was glad I waited until all 9 chapters were out to read the whole thing, because I couldn't get enough of Melinda's story. It's a delightful story & it's for those of us who have always wondered what happened after the words "happily ever after" were written in the fairy tales we read. The problem I normally have with novellas that are this short is that I have a really hard time getting into the storyline & characters because they are just over too fast. Not so with this one. I loved Melinda's spirit, and the Beast is so swoon-worthy. I might be a little bit biased because I've gotten to know Nadia over the last month or so through twitter, but I think I would have loved the story even if I didn't know her. While this book doesn't have a Christmas theme, the storyline of doing what's right, and thinking of others first, definitely fits in with what Christmas is all about. The chapters are fairly short, and it's a perfect read for during the week.

The first two chapters from Nadia Lee's A Happily Ever After of Her Own are available here and here. The rest of the novella is for newsletter subscribers only. You can sign up here. It's free to join. I just can't say how much I loved this novella — but I'm not biased or anything. :)

Sigh Meter: High
Swoon Meter: High
Sweetness Meter: High
Cheesy Line Meter: A few here and there (A romance wouldn't be a romance without them!)
Thank you, Colette! :wub:
P.S. Colette reviews lots of books. You should totally check out her blog when you aren't sure about what to read next, etc.