Honeymoon Day 1: To Thailand
Hello world!
Hero Material and I are back from our honeymoon to Thailand. It was very lovely, very hot and very interesting.
We flew out of Fukuoka. Random trivia for those with an adolescent humor psychosis: the three letter code for the airport is FUK. I still think SUX (Sioux airport) is the worst though, since it not only has the suckiest code but there aren't that many things to do in town.
Oh, then we flew to Bangkok. (Yeah yeah, make fun of it! Let's get the juvenile giggles out of the way. *wink*)
Then to Phuket. (I know it reads like a naughty little place, but it's really pronounced as Poo-Cat.)
Fukuoka airport was medium-sized but not that hectic. The Japanese really know how to move people around as efficiently as possible. Our flight to Bangkok was very comfortable. The cabin attendants served us champagne, so Hero Material and I toasted to our honeymoon. :) Then we watched Inglorious Bastards. It wasn't as good as I'd hoped, but still was entertaining. I napped a little bit afterward because I was tired from having to get up so early for the trip.
Getting around Bangkok airport was a bit messy, although it's a beautiful airport. There aren't enough gates, so they have to bus you to your planes, etc. It does get very energy-sapping, esp. with the 40 degree Celsius / 100 degree Fahrenheit humidity smothering you. But if you have the lounge privilege, Thai Air has a very nice one in the domestic terminal that overlooks a beautiful garden. It's very restful there, especially with the free wifi.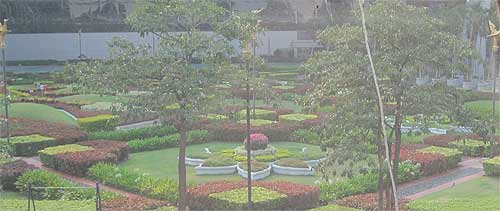 It was also nice that Thai Air upgraded me to First Class on our final flight to Phuket, though they didn't upgrade Hero Material, so he had to stay in Business Class. It was amazing how many kids were in business class, but from what I could gather, Thai Air overbooked economy, so they had to bump some people up a class or two. It was only one hour long, so Hero Material and I didn't mind too much about being separated. He also got to sit in the second level — it was one of those really big Boeings with two levels, the upper one being all business class.
Phuket airport was just insane, full of people yelling at you for your money business — taxis, mini-buses / vans, tours, etc. It was completely overwhelming. I really wished the concierge had given me better information on how to get to the resort when I'd called them. They just told me to use whatever transportation was available at the airport, which totally didn't work out, and I find it hard to believe they didn't know how hectic it is at the airport.
Here are my tips:
Do not use the airport mini-bus / van service unless you know they're going to leave immediately. Else you'll be standing outside for a long time. Like Hero Material and me. In the sweltering heat. I thought I'd melt.
Also be careful who you hire because even the taxis which you've paid for in advance will try to take you to some tour offices, etc. Many taxi drivers get a cut of the packages, etc. you buy.
Hero Material and I booked a four-day stay at at Le Meridien Phuket Beach Resort. HM loved it, but I thought it was just okay. It may be that I've been spoiled by years of traveling and staying at nice hotels (HM is a bit more protean), but I honestly thought Le Meridien Phuket would be a lot better based on its nightly rate and category (Starwood Category 4).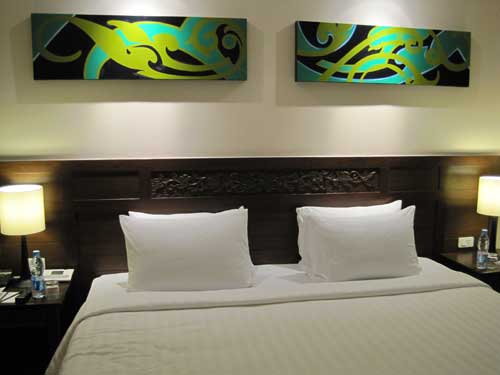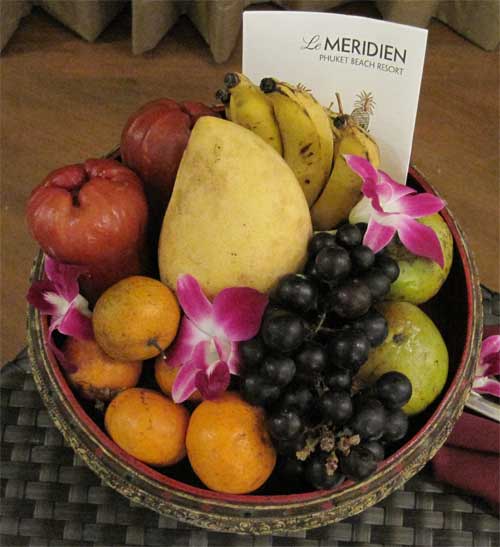 (a complimentary fruit basket from Le Meridien)
The room looks a little old and basically needs a face-lift. The housekeeping's slow, and you should expect to wait about thirty minutes before your request, no matter how simple, can be fulfilled. We also had multiple issues there that required them to send in maintenance our first night. The shower door refused to stay closed (this problem was never fixed). Then the knob broke in the shower, so I couldn't shut it off (the frugal in me cringed at the amount of water being wasted!). Then I found incredibly tiny ants (this too was never corrected even though the housekeeping and maintenance supposedly did whatever they were supposed to do to get rid of the little insects).
Hero Material and I showered, had room service (which was very tasty, albeit pricey) and slept like the dead. We were too tired to do anything after 12-plus hours of travel. We didn't even bother checking out the pools or the grounds or the beach or anything like that. At least the bed was very very comfy.
Our second day in Thailand is coming soon with more pictures. :) Feel free to leave any comments or questions.