Honeymoon Day 2: Beach, Storm, Food!
After a good night's sleep, Hero Material and I decided to get some grub and check out the pools and the private beach.
This is the view from our breakfast buffet table.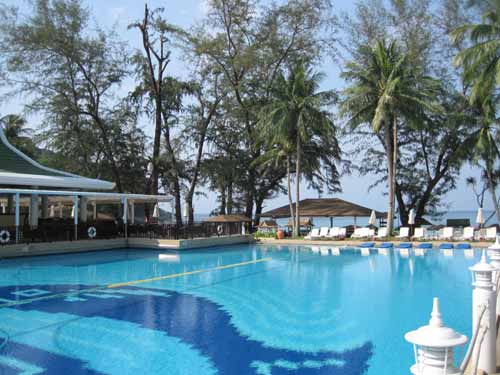 And our superb breakfast food.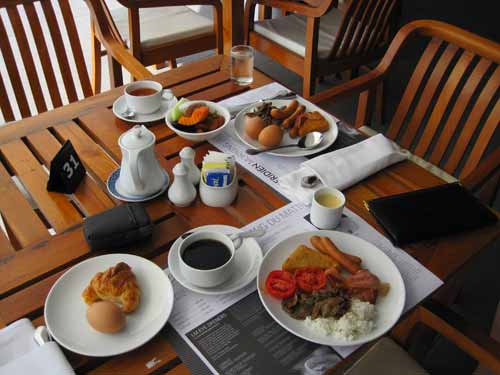 The breakfast buffet was very good. It's pricey — about 600 baht / person (1 USD = 30 baht) plus 10% service charge and 7% tax, but worth it. The resort is completely enclosed, and Hero Material and I didn't want to trek out for cheaper places to eat.
Also restaurants around the pools were not open for breakfast except for a cafe. So if you didn't want the poolside buffet, you were stuck with the cafe.
After we gorged ourselves on omelets, sausages, bacon, pancakes, fruit and so on, we decided to walk around the compound. The landscapes were impeccable and well-maintained.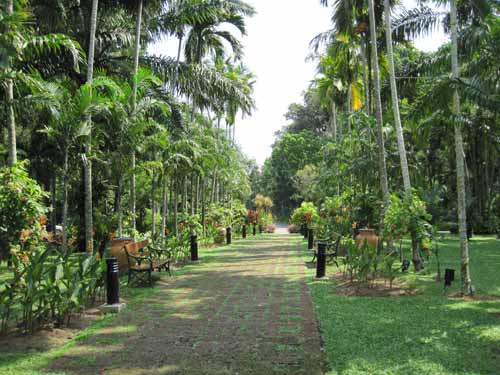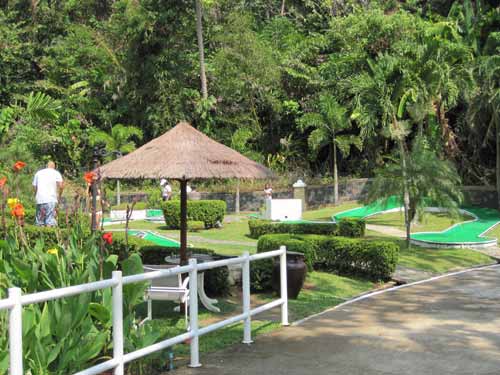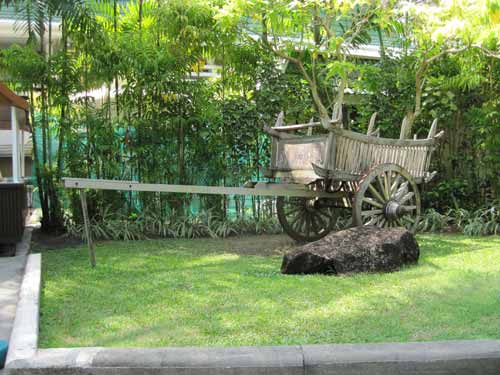 The private beach was gorgeous. Pristine with beautiful white sand and crystal clear water. It was actually fairly warm. Well, compared to the frigid water of the North Atlantic anyway, which is where we went swimming this past summer. :)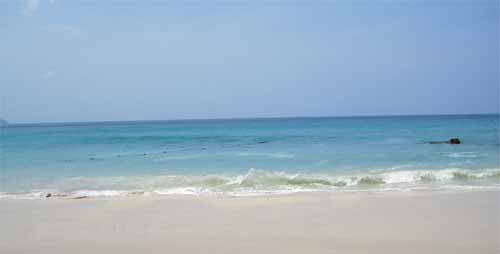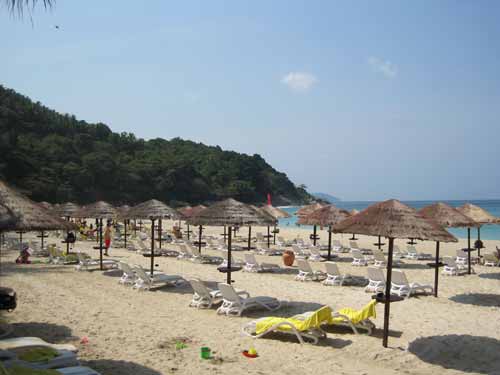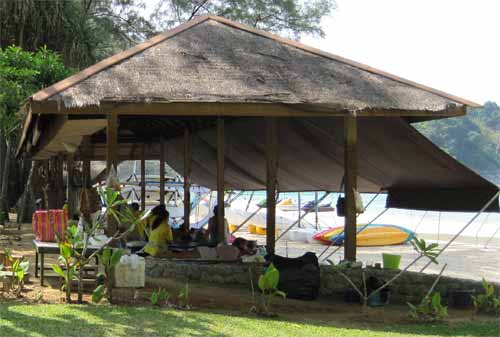 By the beach was a giant chess board. The below is Hero Material posing victoriously as he check-mated his (imaginary) opponent in just two moves.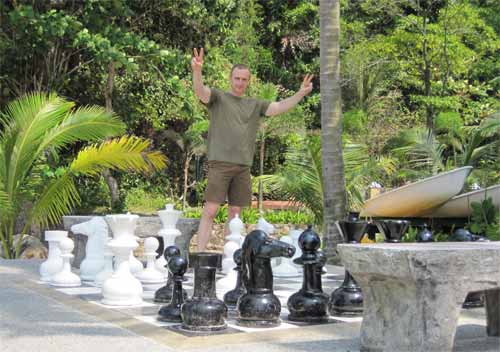 Hero Material and I chilled out at the beach for about four hours. He went for a swim; I just dozed off and enjoyed my cold coconut. Afterward we decided to make an appointment for a night-time massage because the resort spa offered 30% off if you come after 9 p.m. We chose Le Stone (the spa's hot stone massage course) for that night at 9:15 p.m. then went to the concierge for two things:
to charter a boat for a tour of Phang Nga Bay for snorkeling and checking out the "James Bond island" (Ko Tapu)
to make a dinner appointment at Acqua, which is supposed to be one of the best Italian restaurants in Patong beach, so we wanted to try it
The concierge told us that the chartered tour was sold out because their private boat was unavailable until April 1, which was when we were scheduled to leave Phuket. The concierge recommended that we try a travel office (on the premises) for a third-party tour. So Hero Material went there to arrange for it, leaving me to deal with the second item.
The reservation was super easy. The concierge also arranged for our transportation to the restaurant.
Alas, the taxi never came.
Around 5:00 p.m. a killer storm hit the area.
Obviously this meant the taxi couldn't come on time. We waited twenty minutes past our appointed time then canceled. Seriously, dude…! It's so hard to go from Japan where everyone's super punctual — nothing short of a typhoon or massive earthquake can make anybody late for anything — to Phuket where obviously it's okay to be late. I was looking around to hear the PA announce, "Dear honorable customers, we have no words to describe how sorry we are to cause you this unimaginable and intolerable inconvenience." *sigh*
Since we refused to go hungry on our honeymoon, we decided to eat at the resort and went to its Thai restaurant Wang Warin.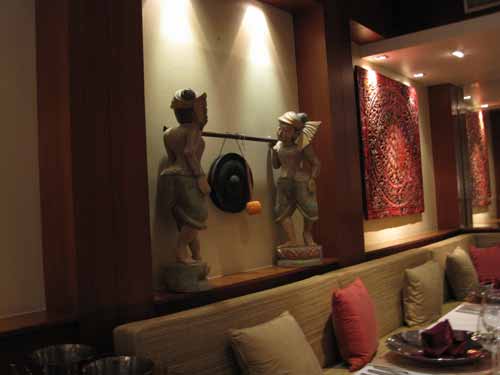 We ordered their recommended Thai course. It was superb, not too spicy and with ample portions. We were totally stuffed.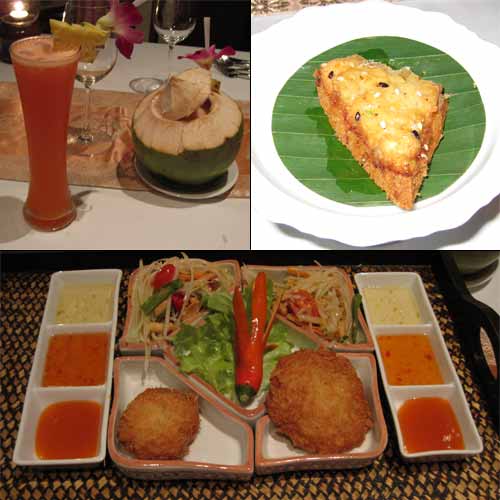 One of the head honchos came by to ask us about our dining experience. We told him it was excellent. The service was good, and the food was just right. I have no idea how authentic it was — hey, I'm not Thai and don't know much about its cuisine — but I liked it. :)
But another disappointment awaited us when we returned to our room. The spa called us and said it couldn't do Le Stone for two because one of the masseuses was unavailable. The receptionist offered us another package, but we were set on Le Stone, so she rescheduled us for the next night at 9:00 p.m.
Though Hero Material and I were unhappy at first, we decided that maybe it was for the best. Since we would be snorkeling and so on the next day, maybe it'd be nice to have an eighty-minute massage at the end of the day. :)
Our third day in Thailand coming soon — James Bond island and snorkeling…!