Guest Blog: Caution – Change Ahead by Joely Sue Burkhart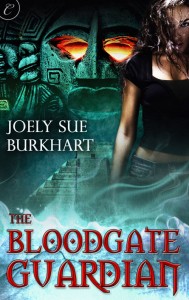 If you've been writing long at all, you've heard the "pants vs. plotter" debate in some fashion. Flames can blow up on a writing group in a hurry about the proper way to write. Writers who don't plot break out in hives at the thought of spreadsheets; plotters wonder how the heck anyone without a solid synopsis in hand can ever find the end.
What I've learned over the years is that both sides of the camp are right.
I spent time early on looking for the right way to write. Like there was just one way, the Right Way. If I figured out that method and followed it faithfully, then I'd surely sell in a hurry. Looking back, I can only shake my head. Because what I've learned in the last seven years is that there is no right way — as long as you find your way to "the end." In fact, every book seems to require a different process.
I've completed ten novels of various lengths, numerous short stories, and have five projects currently in my queue, and the only thing common about each of them: I wrote them. Every single one required a different skill or technique to complete.
At first, I thought this constant changing process was simply due to my gradual development as a writer. In the beginning, I was all pants. I scorned plotters. Ugh, spreadsheets! You're kidding, right? But over the years, I moved to serious plotting. For one project alone, I had three spreadsheets and four sheets of poster board stuck to the wall for my sticky-note plot!
I faithfully use the hero's journey. I've read all the recommended writing books from GMC to screenwriter's tips. So of course, as I learned more as a writer, my process changed. But here's the key: my process continues to change, because the journey of a writer never truly ends. We never stop learning and growing as we explore a new book.
Even now in my eighth year, I have a book that refuses to be plotted. At the same time, I have another project for which the only thing I've written is a monstrous synopsis — over 5K! One project is on notecards. Another is just a few notes in a folder.
Each book is different. It will test you in different ways and require something new of you. So don't stress out about how your process may be different from everyone else. Don't worry if one book isn't cooperating. Simply try a new technique to see if the words will flow. If you've never tried notecards, pick up a colored pack and play. If you absolutely love spreadsheets but find you're stuck with what happens in Act 3, try some free writing in a note book.
Grow those writing wings and don't be afraid to try something new.
---
Joely always has her nose buried in a book, especially one with mythology, fairy tales, and romance. She, her husband, and their three monsters live in Missouri. By day, she's a computer programmer with a Masters of Science degree in Mathematics. When night falls, she bespells the monsters so she can write. Find her on her website, Twitter, Facebook, and check out Scribd for free reads!