Guest Blog: The Perils of Summer by Susan Porter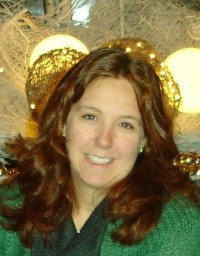 What I have is more distractions that a summer evening has fireflies. This is what I told a friend recently, over ice tea as we watched children run through the sprinkler.
There that sums it up. I have nothing much written this summer, other than to-do lists, notes on envelops and old receipts, half completed story outlines and inspiring pictures ripped from magazines, some poems roughed out and written in my journal. A handful of blog posts completed and posted. Nothing like I had anticipated having completed.
What I do have is a bucket full of "he hit me"s and "Mom, where is my beach towel."s
I have a pile of laundry taller than Mt. Everest and a map of play date locations and camp drop off sites. I have the tan lines to prove that I have made out with Apollo more frequently than my Muse.
I do not have writers block, I have a base case of summer interrupus.
My husband likes to casually inquire as to how my book is shaping up knowing full well this question may illicit a glass of ice tea over the head. I have noted that this question is most frequently asked while we are dinning outdoors and the mercury has inched up higher than the droll weather fellow had predicted.
The truth is summer used to be a great time for me to write. This summer has been a horrible summer for me to write. My husband has been traveling more than he has in over 5 years and my kids are busier than I recall them ever being and they have less structured camps than ever. During previous summers I have managed a fair number of freelance copy writing jobs and still focused on poetry and short stories. Last year I had double the number of blog posts, than I do this summer.
Recently I gave into what can best be called writer's despair. I had so many great ideas swarming in head like horse flies in a barn and nothing to write on, so I wrote on my arm, while watching the soccer camp World Cup finals. I have resorted to note taking on Twitter, while enjoying a lunch on the patio, which I blamed on the lunch time glass of wine. (Note to self, more lunchtime red wine.) My notebook was in the car and I just rummaged in my purse and when all I could manage to unearth was a worn envelope half covered in an old grocery list, I decided Twitter was as good a place as any for note taking.
The reality is this summer, I planned poorly and life conspired against me. While sometimes I can sit down and write for fifteen minutes other times I cannot make it happen on command, when I have a spare thirty minutes. Sometimes the siren's call in the form of laughing children, chiding laundry piles and the saucy serenade of the pile of farm fresh peaches is just too much.
Sometimes my Muse has sunstroke.
Some writers have a discipline and write at the same time every day. I am not such a writer. My Muse and I need to be on the same page and if either of us is cranky, tired or suffering from heat stroke, the words back up like debris behind a dam.
I have to remind myself, the dishes will be there tomorrow, the words might not be as I set the house in order at the end of a busy summer day. As the days get shorter and the school year looms ahead, I remind myself, plan now and for goodness sakes, plan time to write.
Fall breezes and crunchy leaf tours take up as much time as sitting poolside and making peach cobbler. Fall is just around the corner.
---
When not chasing little people in counter-clockwise circles Susan can be found blogging at Stiletto Woman and on her own blog, Thoughts from the Edge. Her alter-ego, Elisa Phillips faithfully contributes poetry, essays and short fiction to the Naked Sunfish. Someday, someday she hopes to have found enough stolen moments, to complete that novel.