THE EFFICIENCY EXPERT by Portia Da Costa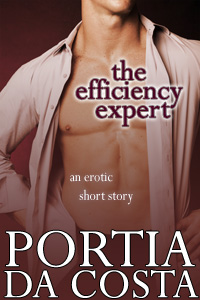 Still stinging from a stringent management review at her workplace, office girl Susie encounters the very last man she wants to meet when she hits her favorite bar to relax and unwind. Gorgeous Noah Stevens is the ruthless company troubleshooter who's been making her life hell for the past three weeks, but after hours, he soon proves that his dedication to "efficiency" can work wonders in the bedroom.
2,900 words = approx 8 pages
N.B. Please be aware that this title contains sensual content that is only suitable for adult readers who are comfortable with frank language and descriptions of erotic scenarios
Author's note: This short story originally appeared in the anthology Passion: Erotic Romance for Women, published by Cleis Press.
Buy eBook: All Romance eBooks :: Amazon Kindle US :: Amazon Kindle UK :: Smashwords
This is Portia's first self-published title. She used my How to Format Your Manuscript for Kindle and Nook to create ebook files to upload to Kindle and All Romance eBooks. Isn't that awesome? :)
Portia is a fabulous writer and one of the sweetest people I know, and I hope you give this story a try!