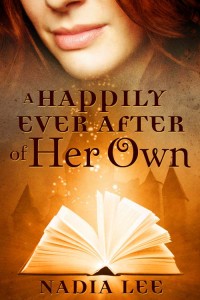 Bonnie of A Backwards Story has written a lovely review of A Happily Ever After of Her Own:
If you're looking for a light, funny novella, look no further than A Happily Ever After of Her Own by Nadia Lee. Lee takes the term "fractured fairy tale" to new heights, creating a story in the same vein as the Shrek movies. Upon reading this e-book, who wouldn't covet Melinda's ability to pop in and out of various fairy tales? I know I'd love to take a first-hand look at my favorite tales.

…

At first, I was surprised by the way the romance shapes up because I wasn't expecting it to come in the form it did. Lee does it in such a way, however, that it makes sense. There's a startling revelation about fairy tales that I won't spoil for you here. Overall, A Happily Ever After of Her Own is a fast, entertaining read that will give you food for thought, especially if you're a fairy tale lover!
Read Excerpt »
Buy eBook: All Romance EBooks :: Amazon Kindle US :: Amazon Kindle DE :: Amazon Kindle UK :: B&N Nook :: Diesel eBook Store :: Smashwords :: Sony eBook Store