Giveaway: CONFESSIONS OF AN IMPROPER BRIDE by Jennifer Haymore (Open Worldwide)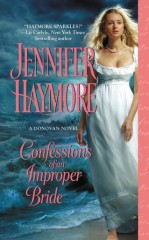 I was going to announce the details on July 8th, but it just wasn't meant to be.  Sorry about that.
So here are the rules and information:
Why read Confessions of an Improper Bride?
Because Jennifer Haymore is an awesome writer.  And don't the blurb and excerpt intrigue you?
Serena Donovan left London six years ago, her heart broken and her reputation ruined by devilishly handsome Jonathan Dane. Now, with her family's future in peril, she reluctantly agrees to return to England and assume her late twin's identity. The price? Marry a man she doesn't love and spend the rest of her days living a lie.
Jonathan Dane, Earl of Stratford, has become an incorrigible rake, drinking, gambling-and trying to forget Serena Donovan. Yet the moment he's introduced to the prim and proper "Meg", he recognizes the sensual young woman who captured his heart. Haunted by his past mistakes, he refuses to lose Serena again. But convincing her to trust him is no easy task. Claiming his lost love means exposing the truth and destroying the life Serena has sacrificed everything to rebuild. With the future of all the Donovans at stake, and their undying passion capable of triggering yet another scandal, how much will Jonathan and Serena risk for a chance at true love?
Excerpt (from Jennifer Haymore's website)
"There you are, Miss Donovan."

It was Langley's voice. With a sigh, Serena dropped her hand and turned. There he was, standing not an arm's length away, with Jonathan Dane at his side.

Jonathan's wide, sensuous mouth hadn't changed in shape, but its turn seemed more cynical, more inclined to smirk rather than display the genuine, joyful smiles she remembered. His lips were parted, and she could see the hint of teeth behind them.

She remembered those lips. How often she'd kissed them, had run her tongue over those teeth.

"Good evening." Serena's voice emerged smooth and deep and contained no tremor. It reminded her of her voice when she was with Jonathan before, when she was aroused and could only think she wanted more, she wanted him to take her to the pinnacle.

He had taken her to those heights, not only physically, but emotionally as well, and she had counted on it never to end. But then it had ended with an abruptness that had shattered her.

He gazed at her as if startled, a slight frown forming between his brows. "Serena?"

The cheerful roar of the ballroom faded to nothing behind the din of her shock. She glanced at Langley to see him blanch. Everyone standing nearby had turned to gape at them.

She stared up at Jonathan, unable to speak, to breathe.

He stared back at her, his eyes dilated in the shadows until they looked black. She remembered them, though. They were midnight blue, like the deepest ocean on a sunny day. They always appeared quite dark whenever there wasn't enough light to illuminate their true color. In broad daylight, his eyes were exotic, their dark cobalt sparks contrasting with the gold streaks in his hair and the broad slashes of his eyebrows. Such a handsome man.

Langley gave an awkward laugh and clapped Jonathan on the shoulder. "No, this is Meg, man. Meg Donovan, my betrothed."

Jonathan shook his head, as if flinging away a fog that had descended over him. He blinked hard, and seeming to come to his senses, he bowed. "Of course," he murmured. "Of course. Forgive me. Miss Donovan, it is a pleasure to see you again."

The low timbre of his voice made something within Serena clench. She remembered that voice, had dreamed about it more times than she could count. That voice had whispered in her ear, caressed the most private parts of her body, told her wicked things she was certain she'd never hear again. The words he had uttered to her had made her first fall madly in love and later tremble in ecstasy.

It had nearly killed her when she learned all those words had been lies.

Was he still a liar?

Such characteristics were usually ingrained in a person by the time he reached adulthood. If a man was a liar at twenty-two, he probably was at twenty-eight as well.

Serena couldn't answer him. She simply stared. Langley gave her an apologetic look, as if asking for forgiveness that he hadn't warned her about the arrival of the man who had defiled her sister. Serena sucked in a steadying breath. Suddenly, she felt perilously close to bursting into tears.

Langley came to her rescue. "Were you going to take some air?"

She nodded dumbly.

He gave her a gentle smile. "May I accompany you?"

His kind words made her find her voice, and she waved her hand. "No, no, please. It looked like you two were headed toward the punch bowl." She gave them a game smile. "I certainly wouldn't want to deprive two gentlemen of their punch."

Langley returned her smile and inclined his head. "But I won't have you outside alone." He clasped Jonathan's shoulder. "If you'll excuse—"

Just then, an arm slipped through hers. Lady Montgomery squeezed her wrist. "Oh, do come onto the terrace with me, Miss Donovan. I was just thinking about taking some air myself."

Serena swallowed hard, then smiled at her savior. "Thank you. I'd love to join you outside."

She gave a faltering, watery smile to Langley, silently thanking him for his thoughtfulness. The two men bowed, Langley looking understanding and Jonathan looking as bewildered as if he'd just been awakened from a year-long sleep. They turned toward the punch bowl, Langley holding on to Jonathan's shoulder, guiding him away and across the room.

Keeping her arm tightly entwined about Serena's, Lady Montgomery flung open the door and led her toward freedom and the outside.
Why are you giving away a copy?
Because I think more people should read Jennifer's awesome historical romance novels.  Also Jennifer is one of the sweetest people I know, and she was instrumental in helping me publish Carnal Secrets. Without her, the story would still be languishing on my hard drive.
Note:  I'm not getting paid to do this or receiving any other form of compensation.  I just like Jennifer.  :)
So how do I earn entries?
Super easy.
Two entries if you subscribe to my newsletter.  (If you've already subscribed, you don't have to do anything to get two entries automatically.)
Tweet why you want to read Jennifer Haymore novels and/or Confessions of an Improper Bride. One entry per tweet per day. Use #JenHaymore so I can track you!
Tweet about this giveaway. (You get only one entry for this, not one entry per day for tweeting over and over again.)  Please use #JenHaymore so I can track you.
The giveaway ends on July 24th (midnight, US Eastern Time).  The winner will be announced on my blog on July 25th and will be contacted via Twitter (for Twitter entries) or email (for newsletter subscriber entries).  The winner has until midnight US Eastern Time July 31 to contact me with a mailing address.
The book will be shipped by BookDepository regardless of your location. (Just to be clear, you're getting an unautographed final book, not an ARC or early copy.) If I can, I'll gift an e-copy if you prefer an ebook and have a US Kindle account.
Good luck!