Guest Blog: The Year I Spent $10,000 on a Dead Dog, or What Inspires Me by Josée Renard (Plus Giveaway!)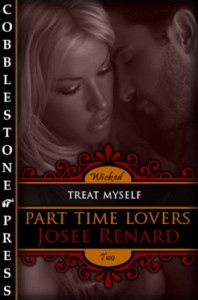 Every story begins somewhere; every writer finds their inspiration in a different place. We might all begin in the same place — with the same phrase or picture or idea — but each story by each of a thousand writers will be unique and individual. Some writers are inspired by history, others by the future. Some writers are inspired by writers who have come before them, wanting to follow in the footsteps of their heroes.
Where to begin? Who? Why? What?
For me, it's all about that tiny flicker of a lighter in the darkness of an auditorium. It's always one tiny thing. I don't have a big idea. I never say I'm going to write a book about…anything. I never think, wow, what a great piece of history and I really want to tell that story. I never write an outline or figure out a plot or begin with a couple who need to get together.
When I look back at the dozens of stories, the hundreds of poems, the novels and novellas, I realize that every single one of them has started in a similar way.
What turns my mind to story is a phrase, a title, a single word, a quick glimpse out the car. It's a nugget, a quick flash of gold in a stream, a sentence heard in passing. It might be a piece of graffiti, a small part of a quote or a story. I've written a novel because of a phrase I read in The New Yorker; a series of stories based on a piece of graffiti on a city wall; another book because of the 30 second glimpse of an abandoned drive-in outside a bus window.
The year I spent $10,000 on a dead dog.
A friend used this phrase the other day and I've been carrying it around in my head ever since, knowing that it will stick with me until I begin the story. I have absolutely no idea what the story will be, don't know if it will be a short story or a novel. I don't know if that sentence will even end up in the story — often it doesn't. Or it starts the story and then gets cut as I get further into the writing of it.
Why does this happen? I think, though I really can't be certain, that the thing that grabs me by the throat is a feeling. I can't tell you what that feeling is, can't be as clear as sorrow or joy or fear, but it keeps me writing until I reach the end. And then the thing that got me there may or may not belong in the story I've written.
The series of ten linked stories I'm writing right now began with a brief mention on the radio of Stevie Wonder. I started singing Part Time Lovers — don't ask me why that song because my favorite is I Just Called to Say I Love You — and voila! Ten stories, 80,000 words, all from that single title.
Inspiration is as individual as a snowflake and what works for me probably won't work for you. For me, I just try to respect that process, try to pay attention to the singularity of the moment when that phrase or glimpse passes by. Because I don't ever want to miss one of them — they're miracles.
About Josée Renard:
Josée Renard writes women's fiction, magic realism, paranormal and erotica. She writes short fiction, poetry and novels. Josée blames her good friend Anna Leigh Keaton for getting her into writing erotica — she loves Anna Leigh's books and wanted to try one herself — now she can't stop. She blames her mother and her two grandmothers for her reading and writing obsession — all of them were avid readers, and they passed the books and the obsession on to her.
She also writes women's fiction as Kate Austin. You can check out her alter ego at www.kateaustin.ca.
Josée has generously agreed to give away one e-copy of Treat Myself. Comment to win. The winner will be drawn on September 12th. (open international)