Happy October!
I can't believe 2011 is now 75% over! Wow, where did all that time go?
So let's see what I've been up to…
The Last Slayer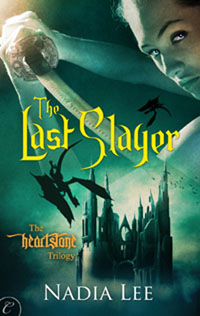 I got a note that Audible picked it up, so it's going to be available as an audio book. That's super-exciting: my first audio book! I'll keep you updated.
Oh and in case you haven't seen it, here's the cover from Carina Press. The Art Department and Frauke Spanuth did an amazing job. I also love how Carina Press reworked the back cover blurb, incorporating the pitch paragraph from my cover letter and adding more to it.
The Last Slayer Sequel
I've titled it Thrones of Thorns for now. I wanted to the title to refer to some kind of element in the story, and I'll leave it up to you to imagine what that might be. It may change though…
This is the project I'm doing the 500 Words a Day Challenge with, and so far it's going very well. At this rate, I'll be done with the first draft by mid-December at the latest. I'll have to do a round of revision before I can show it to anyone for feedback, but this time I'm going to try sending it before drafting it millions of times. Usually that's what I do before showing my project to anybody… I can get a weeeee bit obsessive. But recently I realized that when I do that, I usually don't want to do further rounds of revision, incorporating everyone's comments, because just the idea of looking at the project one more time makes me feel ill. Which, if you think about it, is really unproductive and silly. So it's time for a Change In Process.
The Sekrit Assassin Project
I can't believe I'm still drafting it, but I am. (Don't judge me.) Anyway, I'm going to finish this draft before the year's over and send it to Agent. I don't think there's anything else I can do to this project that I haven't thought of, and it's about time she sees it.
On to non-writing stuff…
I can't wait for Dexter to start! W00t! It's one of my favorite shows, and I'm dying to meet this season's serial killer.
And here's the Boy, 3 months old. People have asked for a picture, and I finally got around to moving photos from my digital camera to the PC. The onesie is a special gift from his honorary Auntie May. (Maybe he'll grow up to be Spiderman…)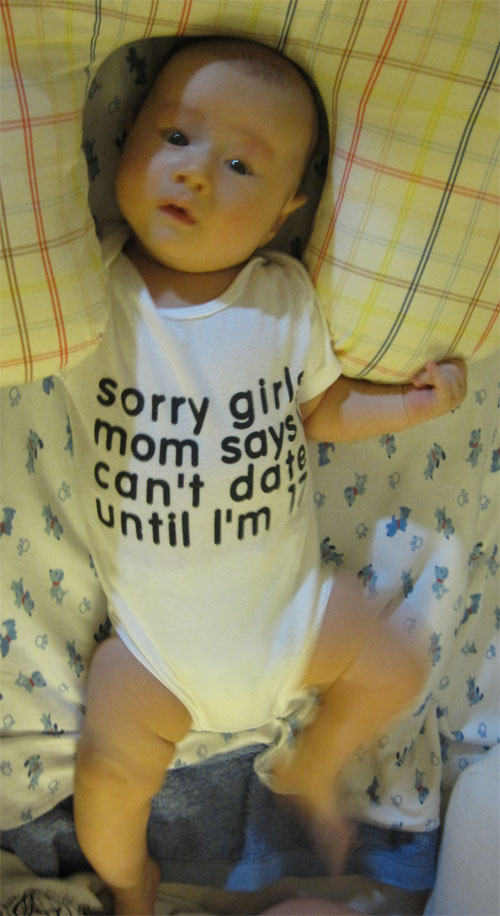 Have a great October, everyone!