The Last Slayer Is On Sale Now!
Today is December 26, and you know what that means! The Last Slayer is on sale now! :) It was supposed to be released in late October, but due to my pregnancy and so on, we pushed the release date back. (Thank god for infinitely patient agents, editors and Carina production staff!)
The Last Slayer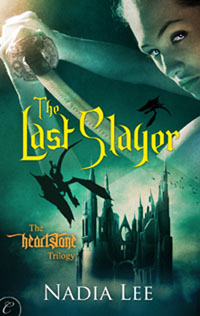 Ashera del Cid is a talented demon hunter, but when she kills a demigod's pet dragon, the hunter becomes the hunted. Her only potential ally is Ramiel, a sexy-as-hell demon. Now the two must work together to battle dragons and demigods…and the chemistry crackling between them.
Ramiel has his own reasons for offering Ashera his protection. He knows her true identity and the real reason the demigods want her dead. What he can't predict is how she'll react when she discovers he knew who she was all along…
Ashera is shocked to discover that she is the only daughter of the last slayer. To claim her destiny, she and Ramiel must join forces to face down danger and outwit their enemies. Only then will she be able to truly accept her legacy…
The Last Slayer has already started to receive some great buzz from reviewers! :-)
"I adored this book. It was reminiscent of Nalini Singh's Guild Hunter meets Thea Harrison's Elder Races series. We have a kick ass heroine in a fascinating supernatural world featuring a hierarchy of dragons and demons. Can't wait to read more!"

— The Raunch Dilettante (B)
"The Last Slayer is complex and Nadia Lee does a phenomenal amount of world building in the first book of what is to be a trilogy of stories. I enjoyed The Last Slayer very much, my only niggle is that I would have liked to read some of the story from Ramiel's POV. However an Epilogue does provide a POV switch and an intriguing lead in to the next story in the series."

— Book Lovers Inc (4 stars)
"I've been searching for a series that makes my heart race and ache at the same time. With The Heartstone trilogy I found my match! The Last Slayer is a wonderful paranormal book with enough wit and sexyness to win me over."

— The Yearning Mermaid (5 stars)
"Un romanzo veramente delizioso, che ho preso in mano e non sono riuscita a mettere giù fino alla parola fine, tutto in un'unica sessione. Sono molto, molto curiosa di vedere come sarà il seguito, che l'autrice sta scrivendo proprio in questo periodo, per vedere se sarà all'altezza del predecessore o se anzi riuscirà a superarlo. Una trilogia che consiglio a tutti gli amanti del fantasy e del paranormal, grandi o meno grandi."

— Sognando Leggendo (4 stars) (My first Italian review! You can read the translation from Google Translate here)
Sample The Last Slayer from my website here.
To get the rest of the story, you can buy from Carina Press, Amazon (US, UK, DE, FR, IT, ES), B & N Nook, Books on Board, Diesel, Kobo, iBookstore (US, Canada) and Sony.
ETA: If you buy The Last Slayer from Carina Press, you can use the CARSP1011 coupon code to save $5 when you spend $10! The offer expires on January 4th.