The Year of the Water Dragon Is Here!
Oh my gosh, I still can't believe it's already January. I keep thinking that it's still December 2011! I'm still getting used to writing 2012 in my date books and so on. How about you?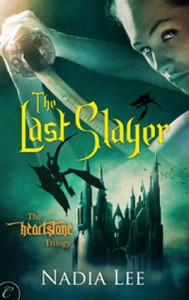 I'm grateful that 2011 ended well with the release of The Last Slayer. It hit the Carina Press Most Popular list and continues to receive a very, very gratifying number of extremely positive reviews.
"A smashing debut to a thrilling new series!" — Ex-Libris

"…one of the best I've ever read…" — Booked Up

"A gripping plot, likeable characters, well written and imaginative…I give it five stars and urge all lovers of urban fantasy to read it, especially if you're into dragons." — Tahlia Newland

"Sometimes I read a book and I'm left wanting more. The Last Slayer was one of those books. Nadia Lee's world of demons, demon hunters, and dragonlords was convincing, and I'm so glad that it's part of a trilogy because I can't wait to read more about Ashera's quest. This is one of those books that will appeal not only to fans of urban fantasy, but also to those who enjoy more traditional fantasy reads, so if you're in either one of those categories, you are in for a treat." — All About Romance

"If you're looking for a genre-blender of fantasy, paranormal and urban fantasy, then I totally recommend this for you." — Basia's Bookshelf

"…a little bit Urban Fantasy, a little bit Paranormal Romance, a little bit Fantasy and a lot of beautiful world building…looking forward to the next book…" — Buckeye Girl Reads

"With an engaging wise-cracking heroine and a smouldering hero, and epic fantastical tone, I highly recommend The Last Slayer if you fancy something new." — The Book Pushers

"I adored this book. It was reminiscent of Nalini Singh's Guild Hunter meets Thea Harrison's Elder Races series. We have a kick ass heroine in a fascinating supernatural world featuring a hierarchy of dragons and demons. Can't wait to read more!" — The Raunch Dilettante

"I absolutely recommend it to people who like dragons, demons and sexiness!" — The Yearning Mermaid

"…an Arthurian good versus evil theme…light eroticism…vivid descriptions…a phenomenal amount of world-building… I enjoyed The Last Slayer very much." — Book Lovers Inc

"I didn't know what to expect from this book when I started it but WOW this is a seriously good fantasy…is definitely going to leave you wanting more." — Melanie, Goodreads
Whew! To say that I'm overwhelmed would be an understatement. I've been completely blown away by all the great things people are saying about this book. Thank you, thank you, everyone!
I'm going to do a few more guest blog posts and interviews, so please check my interview / guest blog post schedule for more information if you're interested. I'll be discussing a few behind-the-scenes stories and anecdotes, etc. Every single one of the guest blog posts features new material and information about how I wrote The Last Slayer and related topics.
Also, in case you missed the announcement earlier you can sample The Last Slayer from my website here.
Currently, I'm working on the sequel to The Last Slayer. It's going much more slowly than I'd like, but such is life. *sigh* At least I don't have to figure out everyone's eye color. (You can find out more about my eccentricity with eyes on Tori Book Fairy's blog on January 12th.)
I hope you all have a roaring good Year of the Dragon!