Maybe…Possibly…We Found a New Place to Live!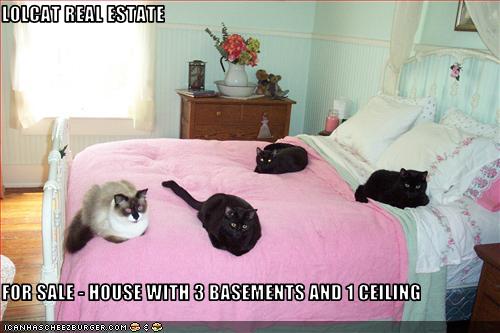 Hero Material and I currently live in an apartment that's at least 25 years old, drafty and small (less than 60 m² or 645 ft²). It was okay when it was just the two of us, but with The Boy, the place is just too cramped. The really nice thing about our apartment, however, is the location. Hero Material's office is right across the street from our apartment, The Boy's daycare is less than 2 minutes away by bike, and my physio is 2 minutes on foot. And we're within 10-15 minutes on foot to the main train station, and 3-4 minutes from a major streetcar stop and a bus stop. (All this is very important since we don't have a car here.)
But we just have to move. So we started looking in April. New condos near where we live were outrageously priced. Anything approaching 80 m² (861 ft²) cost ¥60,000,000 ($765.5K). And we didn't want to pay that much for a smallish condo, especially given that the real estate in Japan does not appreciate. Homes depreciate like cars in this country. So it makes zero sense for us to drop over $750k on 861 ft² of space.
So we thought maybe we'd rent, except most are just as small as our current apartment, and some landlords were outright against renting to foreigners. ("Gaijin wa dame!") So we considered building a home, but even that proved to be really expensive. During all this time, our realtor Mr. I's been very patient, explaining our options, etc.
Finally we found a "used" condo that we like. It's about 14 years old, about 870 ft² big (balcony extra), and in the most perfect location.
Two major malls, grocery stores and gyms: 6 minutes by bike
The Boy's daycare: 8 minutes by bike
Hero Material's office: 10 minutes by bike
A general clinic: 5-6 minutes by bike
University research hospital and a major hospital full of specialists: 10-15 minutes by bike
Night-time ER: 5 minutes by bike
Pediatric ER: 13 minutes by taxi
Parks — everywhere
Riverside view: check
Mr. I agreed that the condo was excellent and reasonably priced, given what we've seen. (Some were outlandishly priced, and didn't even have a working elevator!!!!)
So Hero Material and I were all happy and returned to Mr. I's office to discuss the specifics of the transaction. And then it got really really weird because Mr. I said he couldn't represent us in the deal!!!!!
He explained that though he'd like to continue to help us, he had to hand us off to Mr. S, who is another agent from another company because of some strange corporate situation with his firm and the other firm (representing the seller). We were, of course, flabbergasted and somewhat nervous. Flabbergasted because we really liked our agent and wanted him to get the commission since he did all the work of showing us various properties and explaining the real estate market situation and financing options. (In Japan, buyers pay their own agent out of pocket: 3% of the home price plus ¥60,000 ($765)). Somewhat nervous since it's our first time buying in Japan, and things are different from America. We really wanted our own agent representing our interest.
Anyway, we met Mr. S, who is very nice and told us that he is actually our agent because the seller has this other agent who has no real experience (even though he's licensed, and yes, this gets even more Byzantine). But the seller wants this 3rd agent with no practical experience to draft the contract, etc. and so this mysterious 3rd agent is someone we may never meet, but is involved in the transaction somehow. So anyway we are to pay Mr. S as he will act as our agent. Trust me, I was listening to his explanation of this entirely too bizarre arrangement with my mouth slightly open. (Of course, I do have a cold at the moment…) And I don't think Mr. S was trying to blow smoke or anything as he works for a very large and well-established real estate firm with a good reputation (just like Mr. I, whose firm was just as big, well-established and reputable).
Mr. S and his assistant Mr. H gave us a few thoughts and opinions about our concerns and points of negotiation. He didn't think anything we asked for was outrageous or unreasonable. And he explained our options in more detail since we're about to plunk down a set amount of money for a very specific property.
Anyway, sometime later today or tomorrow, we'll know for sure if we'll be able to get the condo or not. The seller wants to show the place to one more prospective buyer before giving us his answer. Wish us luck!
P.S. I have to mention here how Mr. I and his professionalism and dedication to his clients touched me. He knew before we went to see the condo that he wouldn't be able to get a commission should we decide to buy that one. He could've easily told us that the place was in a bad building or that the seller was a jerk and unwilling to sell to foreigners or any number of perfectly plausible excuses to avoid showing it to us.
Instead, he never tried to discourage us or point out why we should buy some other condo that would've gotten him his commission. He even said he thought the condo we were most interested in was the best one for us given our wish list. And as we were saying farewell after his bombshell explanation about not being able to represent us, he still came all the way out of his building to bow us off (the proper and official ninety-degree bow!) and wish us luck.
I can't think of too many people in sales who would be willing to do the same. And trust me, when people want a referral for a realtor, he's going to be the one Hero Material and I talk about. (And should we ever decide to sell the condo or rent it out or whatever, he's going to be the first agent we talk to.)