REDEMPTION IN LOVE (Hearts on the Line 3) is out!
Before I talk about Redemption in Love, I want to take a moment to let you know that Reunited in Love has peaked so far at #5 on Apple iBooks Contemporary Romance Top Sellers List. I couldn't have done this without your support. Thank you so much!
Now to the main topic of this post…
Redemption in Love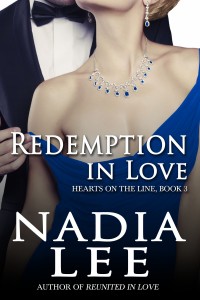 It's love or nothing…
All Amandine Monroe ever wanted was to fit in with her glamorous and wealthy in-laws and live happily ever after with her irresistible billionaire husband Gavin Lloyd. Three years after the wedding, she's still nowhere near fitting in with her in-laws, and Gavin has given her everything—except his heart.
When she finds out she's pregnant, she decides she can't raise her child in a home devoid of love. If she can't have Gavin's heart, only a divorce will do.
Possessive and driven, Gavin won't let the only woman he truly cares for walk away without a fight. He demands full custody of their child or a chance for them to reconcile.
Saving their troubled marriage will require more than expensive gifts and a second honeymoon. If Amandine and Gavin can't overcome their pride and private fears, they'll have to let go of each other forever…
Redemption in Love is approximately 398 pages long in print.
ebook*:
Amazon US :: Amazon UK :: Amazon Canada :: Amazon Australia
Apple US :: Apple UK :: Apple Canada :: Apple AU :: Apple NZ
Barnes & Noble
print edition**:
Amazon US :: Amazon UK :: Barnes & Noble :: CreateSpace