Ask Nadia: What author and book turned you on to this genre [romance / contemporary romance]?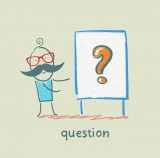 This is a new feature I'm trying out. When I get questions — about anything — I'm going to try to answer them on Wednesday. :)
So here's this week's question from a lovely fan:
What author and book turned you on to this genre [romance / contemporary romance]?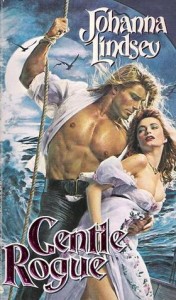 My first romance novel was Gentle Rogue by Johanna Lindsey. I picked out that book because I was "forced" to read romance on a dare. A high school friend told me romance was great, and I told her it couldn't possibly be any good when all the covers had half-naked men and women in semi-orgasmic states of…whatever.
But since I wanted to be "open-minded" about it (haha…), I went to the local library and browsed the paperback romance section, all the while hoping that nobody who knew me would see me there. (I sort of ducked and hid between the stacks.) I picked Gentle Rogue because had the cheesiest cover of all the romance novels available. I was convinced it'd suck and and I would be proven right–that romance novels were poorly written.
Except…I got totally sucked into it. I read all the Johanna Lindsey romance novels I could find, then went onto read more historical romance novels. I became addicted to Julie Garwood and Judith McNaught's historicals.
It wasn't until a few years later that I read Nora Roberts' Born in Fire, which I thought was good, even though it wasn't historical. (I just had this incredible bias for historical romance novels at that time.) I think I read something like fifty Nora Roberts contemporary romance novels along with Judith McNaught's contemporaries.
Then later I decided to try my hand at writing contemporary romance. I just don't think I'd be any good at writing historicals because I don't have the patience to do the necessary research, and I'm pretty sure I'd mess it up. :)
If have any questions about me, my writing, books, characters or anything else, feel free to drop me a line by leaving me a comment, using the contact form or via Facebook or Twitter. I reserve the right not to answer if the topic happens to be politics or religion. But anything else is more or less fair game. Thanks! :)