FOREVER IN LOVE (Hearts on the Line 5) Is Out Now! :)
Forever in Love (Hearts on the Line #5)
Many of you have asked me about who's been stealing money from The Lloyds Development. The answer is revealed in this installment! :)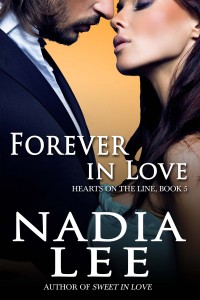 Description:
Catherine Fairchild fakes being perfect by keeping everyone at arm's length. But her billionaire CEO husband's bigamy shatters the illusory life she's built, and vengeful in-laws want to send her to jail for embezzling from the failing family business. Desperate, she accepts an offer from a powerful friend: help him reconcile with his illegitimate son in return for protection. How hard can it be to dazzle a small town guy?
Small town bar owner Blaine Davis has zero interest in claiming his fifty million dollar trust fund or joining the family of a father he barely knows. He can never forgive his womanizing father for seducing his mother or forget the cruelty his father's high-society wife inflicted on them. Catherine comes from the same rich and entitled background, but he starts to fall for her anyway. Can their fragile bond survive when the true reason for her presence in his idyllic little town is revealed and Blaine's old wounds are re-opened?
Forever in Love is 372 pages long in print. Coming up next is Mark Pryce and Hilary Rosenberg this summer!
ON SALE NOW AT THESE RETAILERS
ebook:
Amazon US :: Amazon UK :: Amazon Canada :: Amazon Australia
Apple US :: Apple UK :: Apple Canada :: Apple AU :: Apple NZ
Barnes & Noble :: All Romance eBooks :: Kobo
print edition*:
Amazon US :: Amazon UK :: CreateSpace
* Coming soon to Barnes & Noble and other book stores!