Four Weeks Till Forever (The Pryce Family Series, Book 1) is out!
The Pryce Family is my second contemporary romance series, and I'm super excited about finally getting it published. It's actually coming out a bit earlier than expected, thanks to my editor's and proofreader's extra hard work.
The series has all the awesome goodness you expect from my work—sexy billionaires and strong women and family drama / dynamics. As the same time, it's a slight departure from my previous books in that I'm trying to create stories that are even more emotional and feel-good.
All of you have been incredibly supportive of my writing, and I feel blessed to have fans as amazing as you. So as a thank-you, I'm doing a special series launch deal. For the first week of the launch, you can grab Four Weeks Till Forever for only $0.99 US (that's 80% off the regular price!).
So get your copy of Four Weeks Till Forever while it's still a great bargain and let your romance-loving friends know about it too! And please tell me what you think about Four Weeks Till Forever by leaving a review. I'd really appreciate it! :)
Four Weeks Till Forever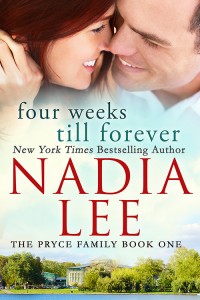 He's never met a woman he wants to spend his life with…
The man: Billionaire playboy Mark Pryce.
The problem: A "real" date for his family's Fourth of July party…or he'll have to attend with the heiress his mother's picked out for him to marry.
The woman: His best friend's executive assistant, Hilary Rosenberg—the only one who can save him from this fate worse than death.
…she is convinced good men are a thing of the past.
Disillusioned by a series of painful relationships, Hilary has no interest in dating Mark—even as a pretense—for the next four weeks. He's too sexy, too smart, altogether too attractive—and a sure bet to break her heart. But she owes him a favor, and she always pays her debts.
When their charade threatens to turn into a happily ever after, can a reformed playboy convince his wary Cinderella that fairy tale endings really can come true?
EBOOK