AN UNLIKELY DEAL Cover Reveal + Blurb + Excerpt
Just got the finalized cover from my designer. Isn't it pretty? Squeee!!!!
I can't wait to share the story of Lucas and Ava. I had a blast writing it, and I adore both characters and rooted for them like crazy while working on their epic romance even though I knew it wasn't going to be easy for them.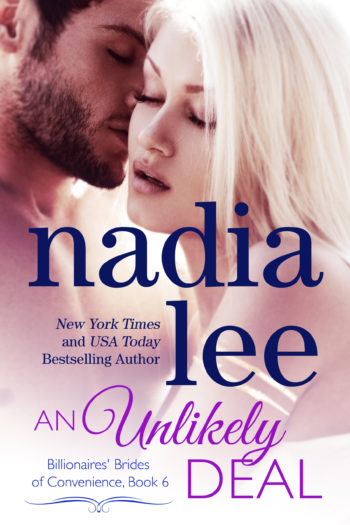 Lucas
When Ava Huss, the only woman I ever loved, left without a word after my horrific motorcycle crash, I didn't pursue her. The crash left me broken, and the ensuing two years have been hell. My billions can't make up for what's wrong with me. My body is deadened to the world, and the only thing I crave — with increasing desperation — is her.
When I receive an anonymous tip about her location, I go after her, knowing an explosive confrontation is the only thing that can thaw the ice inside me.
Ava
I walked away from the love of my life, Lucas Reed, two years ago because I learned I'd been nothing but a toy to him — a temporary playmate to provide some cheap thrills. I've rebuilt my life since then, and I've been happy…until Lucas shows up again.
He acts as though I've wronged him. He demands payback.
I'm not letting him get to me, not this time, and not like this. I survived one heartbreak, but I won't survive a second…
"It'll be a cold day in hell before I get on that plane of yours."
He smiles with the ease of a man used to getting his way. What I wouldn't give to wipe that expression off his face.
"Is that so? I guess they'll need to break out the blankets in Hades tonight." Before I can respond, he picks me up and tosses me over a shoulder like a sack of rice. Blood rushes to my face, but that isn't the only thing making my cheeks heat.
"Put me down, you bastard!"
I lash out with my legs, trying to hit him in the ribs or wherever it's going to hurt enough for him to stop this, but he wraps an arm around the backs of my knees, effectively stopping me. My head bounces on his back, and I pound the thick slab of muscle there, but I might as well be smacking a rock.
"You're making a scene, Ava. Bad girl."
He smacks my ass with his free hand. It stings enough to make me see red with outrage. I flail around, trying to get down or hurt him or even better—accomplish both.
"Keep doing that and I'll drop you. Which will hurt."
"Like you care!"
"But I do. Very much."