An Unlikely Deal is out today! <3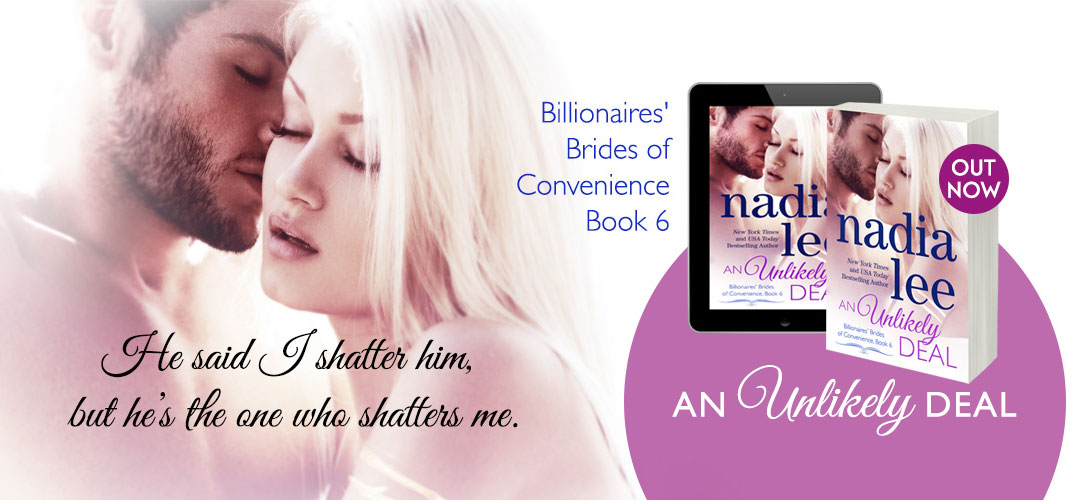 Today is March 14, which means An Unlikely Deal, featuring Elliot's scarred twin Lucas, is finally here! I adore Lucas and Ava, and I hope you love them as much as I do!
AN UNLIKELY DEAL (Lucas & Ava #1)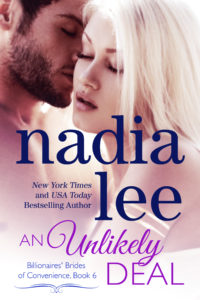 LUCAS
When Ava Huss, the only woman I ever loved, left without a word after my horrific motorcycle crash, I didn't pursue her. The crash left me broken, and the ensuing two years have been hell. My billions can't make up for what's wrong with me. My body is deadened to the world, and the only thing I crave — with increasing desperation — is her.
When I receive an anonymous tip about her location, I go after her, knowing an explosive confrontation is the only thing that can thaw the ice inside me.
AVA
I walked away from the love of my life, Lucas Reed, two years ago because I learned I'd been nothing but a toy to him — a temporary playmate to provide some cheap thrills. I've rebuilt my life since then, and I've been happy…until Lucas shows up again.
He acts as though I've wronged him. He demands payback.
I'm not letting him get to me, not this time, and not like this. I survived one heartbreak, but I won't survive a second…
EXCERPT
"Why did you bolt the way you did?" Lucas asks.
I almost choke, but manage not to by taking a quick sip of water. "It was the food. It made me nauseous."
"Bullshit. We had the same thing, and I was perfectly fine."
"Maybe for you, but it wasn't for me."
"You're evading the topic."
"What makes you think I still owe you my time and mental energy after two years?"
"The accident that left my face scarred also mangled my body. Cracked ribs and a broken leg tend to lay a man flat despite his best intentions."
I tilt my head at the bitterness darkening his narrowed eye. "It didn't take you two years to recover."
"No, thank god."
My throat closes up, and I can't eat anymore. I put my fork down. "I was there."
His eyebrow arches.
"At the hospital. My roommate Erin…"
"The nursing student," he murmurs.
I'm surprised he remembers. "She was at the hospital for some class." The instructors required the students to follow doctors and nurses around to observe and learn. "She saw you come in on a stretcher and left me a message. When I got there…"
Lucas's mouth twists as he brings a glass of some kind of amber-colored liquor to his lips. "I must've looked like shit."
"Your injuries had nothing to do with my decision!" I breathe out roughly. The abject mortification of the moment floods through me, as though the meeting took place minutes ago rather than a couple of years. Not even my father's betrayal made me feel so cheap and dirty. My hands shake from the bitter memory.
Lucas pales. He's staring at me like I'm an enemy he'd like to stab with the butter knife clenched in his hand. "What does that mean?"
"Why don't you ask your brother? The really nasty one."
He lifts an eyebrow. "Brother?"
"Surprised I know about your siblings? I guess you must be, since you never introduced me to your family in the seven months we were together." And I was too stupid to wonder about that, accepting his explanation that his family lived far away and was too busy to keep in touch. "Blake," I bite out the name. I'll never forget that piece of work.
"Blake." Lucas runs a hand down his face. "Fuck."
"He made me realize you and I had nothing together." Worse than nothing. Lucas had never told his family about me — I was some kind of dirty little secret.
He looks up at the cabin ceiling briefly. When he speaks, his voice is soft. "Ava, we had something good together."
I shake my head. "What we had was sex — good sex, but just sex."
"Damn it, Ava. It was more than that for me."
"Really? Then who's Faye Belbin?"
[Okay, after I wrote that, I mentally went DUN DUN DUN! Lucas and Ava both have a lot of things to work out before they get their happy ending…]
GET YOUR COPY TODAY!
→ Amazon US
→ iBooks
→ Nook
→ Kobo
→ Google Play
* Kindle International Stores
→ Amazon UK
→ Amazon Canada
→ Amazon Australia