Special Sale!
First — if you're on my mailing list, check your inbox for your very special epilogue. (If you don't see it in your inbox, check your spam folder…)
Second — I also have a special sale for you whether you're on my mailing list or not. The box set containing the first three books in Seduced by the Billionaire is only 99 cents (or the local currency equivalent) until Sunday May 1. The discount is available in the U.S., UK, Canada, Australia and India at the following stores: Amazon, iBooks, Kobo, Nook and Google Play.
Seduced by Billionaire (Books 1-3)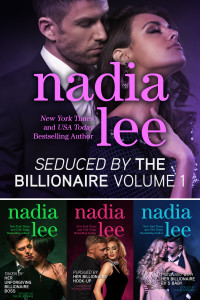 Book 1:Taken by Her Unforgiving Billionaire Boss
Billionaire tycoon Alex Damon plans to seduce Natalie Hall as part of his plot for revenge against her family. But as he pursues his cruel game, Natalie's kindness starts to win him over. What choice will he make if he comes to love the woman whose family he intends to ruin? Will love prove enough to overcome his need for revenge?
Book 2: Pursued by Her Billionaire Hook-Up
Billionaire playboy Ethan Lloyd gets the second chance he wants when he runs into Kerri Wilson. She's the only woman who ever touched him, but she vanished after their one night of passion. He offers her a job and a home, but with her past catching up to her, Kerri may have to bolt again—even though her heart is telling her to stay. Ethan's not giving her up without fighting to make their "temporary" arrangement something far more permanent…
Book 3: Pregnant with Her Billionaire Ex's Baby
Billionaire investor Gavin Lloyd is stunned when his pregnant wife Amandine files for divorce. Refusing to let the only woman he truly cares for walk away without a fight, he demands full custody of their child or a chance for them to reconcile. However, saving their troubled marriage will require more than expensive gifts and a second honeymoon. If Amandine and Gavin can't overcome their pride and private fears, they'll have to let go of each other forever…
Get it for only 99 pennies! (US, UK, Canada, Australia, India only)
→ Amazon US
→ Amazon UK
→ Amazon Canada
→ Amazon Australia
→ Amazon india
→ iBooks
→ Nook
→ Kobo
→ Google Play