THAT MAN NEXT DOOR: Excerpt – Chapter 2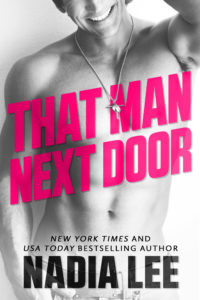 A sweet and sexy standalone romantic comedy featuring a virgin and a hot lawyer!
I'm a twenty-two year-old virgin who's had five one-night stands. How's that possible? Easy. I've never gone all the way. I just chicken out and bail. Thank God, I've always selected men I'll never run across again…
…until that sexy-as-sin Matt from last weekend moves in next door…
…then shows up as a new in-house counsel at Sweet Darlings Inc. where I work.
Oh…crap.
But it was dark in the hotel room. If I put on a boring office outfit and Clark Kent glasses, he won't recognize me…
Right?
► Kindle US
► Kindle UK
► iBooks
► Nook
► Kobo
► Google Play
After a quick shower to wash away the grime from my travels, I start to feel a bit better. Maybe I overreacted. Sammi means well, and she's been trying to get me to loosen up and get rid of my V-Card, assuming I can find a worthy man.
I change into a loose T-shirt and yoga pants and go down for dinner. It's probably what the doctor ordered. Food always improves my mood, the junkier the better.
"I bring pizza!" announces Michelle as she walks in, carrying a huge Costco pizza box. Her hooker shoes click on the hardwood floor, and she kicks them off by the door, wriggling her toes. Her carefully styled brown hair is more wavy than curly now, and the makeup on her face is flawless, bringing out her wide-set caramel-colored eyes and high cheekbones. Crimson red coats her bee-stung lips—all the guys in my dorm called them DSL—and a low-cut, skimpy black dress shows off her pushup bra-enhanced cleavage.
"Perfect timing," I say with a grin. "I was just thinking about grabbing something to eat."
"Sammi told me to get it on the way, saying you'd need it."
I make a face. "At least she knows how to atone for her sins."
"What happened?" She dumps her purse on the couch and sets the pizza on the dining table, big enough for six.
"We have a new neighbor."
"ThaMaNDo is gone, replaced by ThaYuMNDo," Sammi says as she joins us. "How was your day?"
"Quite good. Nabbed a cheater." Michelle grins triumphantly. Although she works at Sweet Darlings Inc. like me and Sammi, she also moonlights as a honeypot for a local PI on weekends. Young and gorgeous, she makes perfect bait.
We settle at the dining table and each grab a slice. After a big bite, Michelle says, "So. Who's this ThaYuMNDo?"
And of course Sammi tells her everything, starting with my failed One-Night Stand Number Five and ending with the humiliating inquisition.
"Wow. That's…something," Michelle says.
"I know, right?" I take a big swallow of Coke. "She went too far."
Michelle nods. "Could've been more subtle for sure. And the question about the diseases was pointless. Guys lie about that all the time. Hell, they lie about their relationship status all the time too."
"Don't let your job turn you cynical. He seemed pretty sincere," Sammi says with a careless shrug. "It's important for him to know we care about stuff like that."
Michelle chews her food contemplatively. "You should just tell him."
"What?" I say.
"That you're interested in finishing what you started."
"Can't do that."
"Why not?"
"Because he moved in next door," I say.
"But that's perfect. You can keep an eye on him. Go for a second helping if the first is good."
Sammi nods. "Multiple helpings are always convenient, especially when it's next door."
"Like a buffet," Michelle says.
"Exactly. An 'all you can fuck' neighbor."
"But I don't want to keep an eye on him or have multiple helpings," I say. "I never wanted to see him again."
Michelle blinks. "Really?"
"Why do you think I only try one-night stands when I'm out of town?"
"I thought it was the hotel room making you frisky. Hotel rooms bring that out in people."
"It isn't about the room."
"Apparently there's a milestone to be achieved," Sammi says drily.
Michelle gives me a wide-eyed look. She probably thinks I'm insane, but then she never had the problem I have with her own V-Card. "So what are you going to do? You can't avoid him forever now that we're neighbors."
"We avoided running into ThaMaNDo," I point out.
"Yeah, but only because he never went to work in the morning like the rest of us." Sammi taps the rim of her glass thoughtfully. "ThaYuMNDo looks like he's gainfully employed."
He probably is. He told me he was a lawyer when we met. But then he also told me he lived in New York. Liar. "I'm going to make sure to leave for work an hour early."
Michelle shudders. To her, sleep is sacrosanct. "And how long is this going to last?"
"Until he moves!"
► Kindle US
► Kindle UK
► iBooks
► Nook
► Kobo
► Google Play