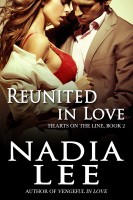 I've been skimming Redemption in Love (Hearts on the Line, Book 3) while formatting it and found this little gem between Gavin and Ethan. If you've read the second book, Reunited in Love, you know that Ethan did not follow his younger brother's advice.

"So Kerri's helping Meredith?"

"Yeah. It's better this way. And before you start up about her being a spy for the enemy, she's not. In fact, I'm going to propose to her as soon as I think of a suitably romantic way to do it."

Gavin shrugged. "Buy her an island and hide the ring in the sand. That's pretty romantic."

Ethan stared at him. "Proportion, Gavin. A sense of proportion. If you happen to find one lying around on the sidewalk or something, you really should pick it up."
Reunited in Love is available from Amazon, Barnes & Noble, Apple and Kobo. Redemption in Love is coming out in February 2014.
You can sign up for my newsletter to be notified when Redemption in Love is out.