Are you ready for the stunning conclusion to Elliot and Annabelle's epic love story?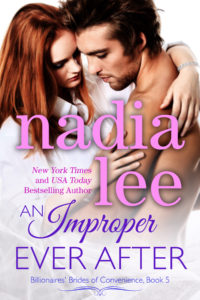 The proposition: One year of "marriage" for one million dollars. Sex, yes. Falling in love, no.
Desperate to escape crushing poverty and provide for my younger sister, I took the deal. But I violated the rules by falling for Elliot Reed, the gorgeous, brilliant billionaire bad boy…and he broke them by wanting more between us–a bond more profound than any legal contract could provide.
However, my complicated past isn't the only thing derailing our marriage. Elliot has his share of skeletons in the closet, and his enemies are determined to use me to get to him.
Now it's time for us to make our final stand—unite and fight for our happy ending—except it will require both of us to reveal our ugliest secrets to each other…and the world.
Note: No cliffhanger! This is the final book in Elliot and Annabelle's love story.
Get Your Copy Today!
➜ Amazon US
➜ iBooks
➜ Nook
➜ Google Play
➜ Kobo
Amazon International
➜ Amazon UK
➜ Amazon Canada
➜ Amazon Australia
If you've been waiting for all the books in Elliot and Annabelle's story to be out so you can read them all back-to-back, now you can. Start the trilogy within the series and discover my favorite new bad boy hero! :)
An Improper Deal (Elliot & Annabelle #1)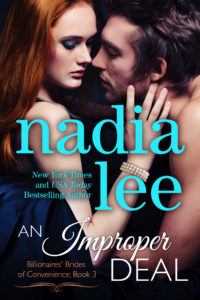 My life crashed and burned two years ago, and now I'm a stripper–a very bad one. Worse, I'm in debt to a dangerous man who orders me to seduce a billionaire prodigy. Except why would a guy as handsome and rich as Elliot Reed want me, a girl with no education, no prospects, and a younger sister to feed?
But Elliot is more than the incorrigible bad boy that the world sees. He is kind to my sister and looks at me like I'm a decadent dessert he wants to devour. When Elliot offers me money for sex, I wish I could walk away, but he ups the ante: a million dollars for one year of marriage. The man's gotta be insane, but beggars with less than a hundred bucks in the bank can't be choosers, and I want to give my sister a life better than my own.
Now, trapped between a man who controls my future and a man who could own my heart, I wonder if I haven't screwed up my life even worse when my "husband" refuses to call me by my given name, and I run into my ugly past…and his.
➜ Amazon US
➜ iBooks
➜ Nook
➜ Google Play
➜ Kobo
➜ Amazon UK
➜ Amazon Canada
➜ Amazon Australia
An Improper Bride (Elliot & Annabelle #2)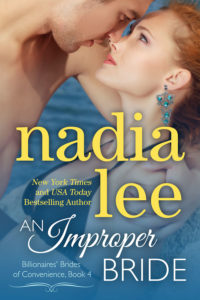 When Elliot Reed offered a one-year contract marriage, I accepted it. Jobless, with a younger sister to provide for, I didn't have much of a choice even though I found him insufferably arrogant and too attractive for my own good. But somewhere along the way, our terms seemed to have altered. Now Elliot wants a fresh start, and I agree. I would like a peaceful marriage–even if it's fake, and even if it's only for a year.
Despite our commitment, the ugly baggage we carry gets in the way. He demands nothing less than full openness, and I can't leave my heart vulnerable to a man who may turn his back on me if he discovers my secrets.
As our pasts collide, his enemies become mine, and mine become his. Unless we can overcome our fear and mutual distrust, our fresh start is doomed…
➜ Amazon US
➜ iBooks
➜ Nook
➜ Google Play
➜ Kobo
➜ Amazon UK
➜ Amazon Canada
➜ Amazon Australia