Carnal Secrets: Small Press v. Self-Publishing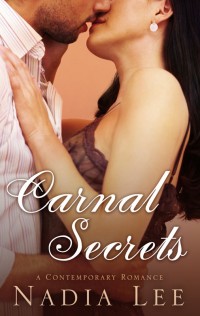 Originally posted on Love Romance Passion in March 2011.
After I walked from the deal on Carnal Secrets, I decided to go it alone. Doing it myself wasn't easy though. In order to succeed, I had to do just as good a job as what the publisher who'd offered would've done, if not better.
I'd published with a fairly big epublisher under another name, and so I knew what the basic process entailed. The most important parts are editing and cover design. (I'm not including promotion and distribution, as the publisher did virtually no promotion on my behalf, and the review clips I managed to get were due to my own efforts, not to mention how long it took before my book was available on Amazon and other third-party vendors.)
The nicest thing about having a publisher is that it'll pay for editing, cover and file conversion. The disadvantage is that you can't always be sure about the quality of editing you get, especially if you're dealing with a smaller publisher, and if you're a beginning author you'll have zero say on cover and distribution. I was pretty lucky with editing. But I wasn't as lucky with the cover. Without consulting me or letting me know, the publisher decided at the last minute to put a black-haired model on the cover even though my book had a blond hero and the cover art sheet said so under "Hero Description". Neither was I lucky with distribution. It took months before my book was widely available on third party vendors.
I can't speak for how other authors self-publish. Different authors have different attitudes and philosophies. But the way I approached self-publishing was that I wanted to put out a book that readers wouldn't mind paying their hard-earned money for. That meant it needed professional editing and an attractive cover that conveyed the tone of the story, as well as models that matched what the main couple looked like in the book.
I'm more than a little bit of a control freak, and so for me the best thing about self-publishing is that I get to control—everything! I asked for referrals on freelance editors and hired one who could work within my timeline and budget after having reviewed her credentials. I also hired Frauke Spanuth from CrocoDesigns, whom I've worked with before. She always does a fabulous job and is a joy to work with. Furthermore, I knew she would design a cover that I thought was appropriate.
The not-so great thing about self-publishing is that you have to pay for everything upfront out-of-pocket. But I saw it as an investment in my book and career. I didn't want to have a poorly edited book that might turn readers off. Each book is an author's best chance at creating fans.
Anyway, I loved the work my freelance editor did on Carnal Secrets. She caught a lot of mistakes, some very embarrassing (like very silly continuity errors and repetitions), some I didn't even know about (because they were English mechanics that I'd never learned in school, etc.). We did two rounds of editing, and I felt that with each round, my story was becoming stronger.
And the cover? All I can say is that Frauke got it perfect. I couldn't be more pleased.
After I finished the file conversion for multiple third party distributors, I reviewed the final version of Carnal Secrets with happiness and satisfaction. Now, here's the book I can be proud of. I hope you love it as much as I loved creating it.