13 Music That Inspired Devil Falls (Soundtrack)
To celebrate the release of my first contemporary romance from Samhain, I'm giving away a copy of Devil Falls. For your chance to win a free copy, check out Damien Kirk Interview Part 1. :)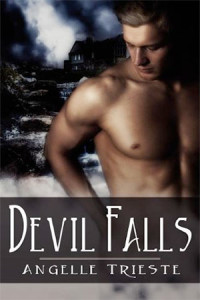 Genre: Contemporary Romance
ISBN: 1-60504-220-X
Length: Category
Release Date: October 28, 2008
Publisher: Samhain Publishing, LTD
All he wants is silence. All she wants are answers.
Damien Kirk was once a world-renowned cellist, celebrated across five continents for his musical gift. Now he lives in self-imposed isolation on a small Caribbean island.
Biography writer Victoria Benedict is looking for a story…and she's not the type to take no for an answer. Her appearance on his doorstep shatters his reclusive existence.
Determined to be rid of her, Damien demands a quid pro quo: a kiss for each answer to her interview questions. Her response is as arousing as it is unexpected. As Damien and Victoria escalate their sensual game of cat and mouse, Victoria discovers the passionate soul underneath Damien's cold exterior…and a shocking story of secrets and betrayal.
Warning: This title contains the following: sex, scorching kisses, killer breakfasts, a hot tropical island and a happily ever after.
13 Music That Inspired Devil Falls (Soundtrack)
Double Cello Concerto in G minor by Antonio Vivaldi
"Air" Orchestral Suite No. 3 in D by J. S. Bach
Toccata and Fugue in D minor by J. S. Bach
"Tell Me Where It Hurts" by Garbage
"Break Away" by Big Mama
"Sleep" by Azure Ray
"E lucevan le stelle" from Tosca by Giacomo Puccini
"Di quella pira" from Il Trovatore by Giuseppe Verdi
Symphony No. 25 in G minor by Wolfgang Amadeus Mozart
"Extreme Ways" by Moby
The Six Suites for Unaccompanied Cello by J. S. Bach
Soul of the Tango by Astor Piazzolla
Symphony No. 5 in C minor by Ludwig van Beethoven