Q&A with Mambo the Grocer (Damien's Neighbor)
To kick off the month of October and the release of my first contemporary romance from Samhain, I'm doing a four-post series on Devil Falls. There's a chance to win a free copy of Devil Falls each week, so tune in. :)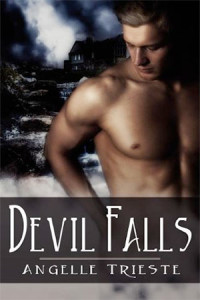 Genre: Contemporary Romance
ISBN: 1-60504-220-X
Length: Category
Release Date: October 28, 2008
Publisher: Samhain Publishing, LTD
All he wants is silence. All she wants are answers.
Damien Kirk was once a world-renowned cellist, celebrated across five continents for his musical gift. Now he lives in self-imposed isolation on a small Caribbean island.
Biography writer Victoria Benedict is looking for a story…and she's not the type to take no for an answer. Her appearance on his doorstep shatters his reclusive existence.
Determined to be rid of her, Damien demands a quid pro quo: a kiss for each answer to her interview questions. Her response is as arousing as it is unexpected. As Damien and Victoria escalate their sensual game of cat and mouse, Victoria discovers the passionate soul underneath Damien's cold exterior…and a shocking story of secrets and betrayal.
Warning: This title contains the following: sex, scorching kisses, killer breakfasts, a hot tropical island and a happily ever after.
Q&A with Mambo the Grocer
Today we caught up with Mambo the grocer. She owns a small grocery store near the mansion where Damien lives, and does a little fortune-telling on the side.
Me: Hi, Mambo. How long have you been on the island?
Mambo: Since I was born. I am a seventh-generation St. Cecilian. (lowers voice) I know everything about everyone.
Me: Really? What do you know about Damien Kirk?
Mambo: Who?
Me: The man who lives in Greyhaven.
Mambo: Him! He is a demon, I tell you. He killed my girl!
Me: Oh…Errrr…hmm. What did the police say?
Mambo: Pffaah! They can do nothing. He has a demonic power. Everyone is afraid of him.
Me (not remembering giving him any supernatural power): How do you know he has "demonic power"?
Mambo: Have you heard him play his cello? It is unnatural to make such sounds, I tell you. Besides, his dogs! They howl like the hounds of hell and cannot stand the light of day.
Me: Err…okay. Well, thanks for your time.
Mambo: Via con dios. (leaning forward) Avoid that man! He will feed his dogs on your blood.
Me (nodding vigorously): You're right. I'll be very careful.
Comment here with anything you want to say or ask Mambo. She will try to answer them all by October 20, so come back here for her response to your questions / comments. One lucky poster will get a free copy of Devil Falls. (Drawing will be held on October 20, so post by October 19 for your chance to win!)
And finally, the winner from last week is Janie Mason (Commenter #9)! Please contact me for your copy of Devil Falls!