Revision
I'm in the middle of revision right now. It's going well, especially because I like the story. (It's near-impossible to do this if you don't really care for your own story…) I like drafting too, but sometimes revision can be more "fun" because I can clear away all the gunk that's "almost there" but not quite.
Below you can see my desk during revision mode. It always has lots of highlighters, my drink of choice (it's coffee in the picture because I took it in the morning, but usually it's a big bottle of water at room temperature; I don't like cold water because it sometimes hurts my throat), trusty Synonym Finder, a notebook to jot down any ideas or reminders as I revise, and several pens in different colors. I also use Word Menu (not in the picture), which is a reverse look-up dictionary. And of course a print out of my work-in-progress.
Now a close-up of some pages after I've savaged them. Once I'm satisfied that they've been sufficiently brutalized, I transcribe everything to the soft copy on my computer. That takes a while because…um…sometimes my handwriting's very bad. I try to write neatly as much as possible in normal settings, but when I'm revising, I jot down ideas very fast because I don't want to lose any gems that come to mind.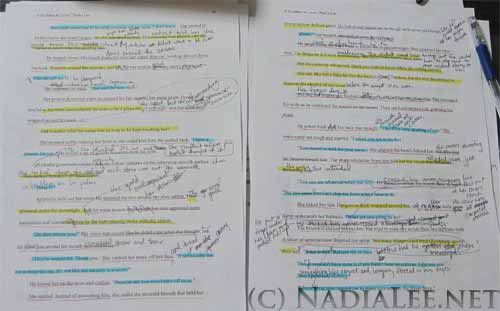 All of us have written and revised at one point, even if it's not fiction (school essays, personal essays / statements for college apps, etc.). How do you revise?