Farewell, Kuro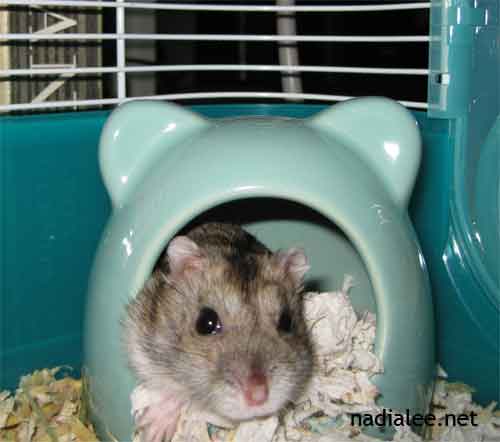 On Thursday July 15 at around 3:30 a.m. Japan Time, Kuro passed away.
In many ways, he was a very special hamster. He was not only my first pet along with Shiro, but he was also affectionate, curious and adventurous.
Out of all the hamsters we've had, he's the one who managed to escape the most. The first time it happened, he kicked a pile of sand into a dune, climbed over a cage wall and landed on top of an open bag of sunflower seeds. Since Hero Material and I were both asleep, we didn't realize what had happened until the next day…when we found a little bits of shells all over the living room. With several hours of liberty, Kuro even managed to get into the kleenex and made himself a lovely nest under the couch.
Another time he got out and crawled inside a sub-woofer speaker through a hole near the bottom. He couldn't quite get out on his own, so we had to feed a belt into the hole to give him something to climb out on.
When Shiro became very ill and lost a lot of weight, she became rather stinky due to wet tail symptoms. Kuro never refused to share his warmth with Shiro. He always welcomed her into the nest and let her lie on top of him, which seemed to make her feel better.
Before Kuro took his last breath, he held Hero Material's finger in farewell and affection. I think it was his way of saying don't be sad because Hero Material was crying. We both knew Kuro wouldn't be alive the next day.
We buried Kuro near Shiro, under a willow tree, so they can be together again.
I hope he's in hamster heaven with Shiro where there is plenty of delicious food and lots of amazing places for him to explore.