Themify Themes Are On Sale – 50% Off!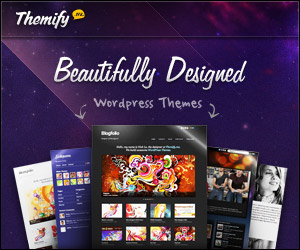 As many of you know, I love WordPress, esp. backend stuff, but I'm not as great at designing themes.
So I outsource my themes and/or buy premium WordPress themes from professional designers. Out of them all, Themify has been the best in terms of selection, ease of customization and support. (I cannot say the same of the other site where I bought a few themes.)
Currently Themify has a big 2nd anniversary sale. Enter coupon code happy2 when you check out, and you get 50% off on all themes and club memberships. It's a great deal since Themify's usual promotions and discounts are for 30% off.
This means you can pick up their themes for less than $10/each. ($19.95 for 2 — buy 1 and get 1 free deal. Trust me you'll have a hard time deciding which two to get because they're all great. I picked up four themes from Themify.)
P.S. The sale ends on Monday August 13.