Support Jackie Barbosa & Memorial Fund
Last week, Jackie Barbosa, one of the sweetest and most generous writers I know lost her seventeen year-old son in a terrible car accident. I'll never understand the depth of her and her family's pain, but as a mother myself, I grieve for her loss.
Today, in support of Jackie, who is an incredibly talented storyteller, I'll be featuring two of Jackie's books that I think my readers will enjoy.
First — Heat in the Game. It's an Entangled Brazen novel. So if you like what that line has to offer — or if you just like hot, sexy contemporary romance, this is for you.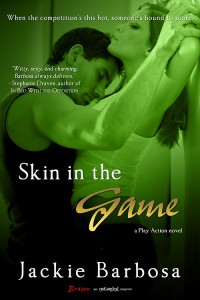 Angela Peterson was always the quiet, shy kid growing up in Harper Falls, crushing on the high school quarterback and honing her football strategy skills. Now grown up and coaching the high school team, she's shocked when that same sexy quarterback returns to Harper Falls asks her back to his hotel room. And then tries to steal her job.Injured NFL quarterback Cade Reynolds is in Harper Falls to take over as interim head coach, and he never thought the tall, blond bombshell he propositioned would offer up any resistance. Not to a repeat of the amazingly wild night they shared and certainly not to his coaching position.
But the Harper Falls High Eagles are Angie's team, and even the hometown hero won't take that away from her, no matter how hot he is. As the two engage in a battle of wits and wills, this is one game neither is prepared to lose.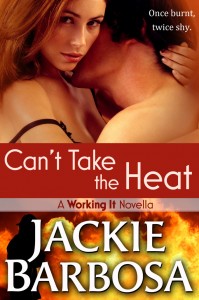 Once burnt, twice shy.
Delaney Monroe could have married her college sweetheart, Wes Barrows, and lived the life of the idle rich thanks to his family's casino money. Instead, she chose to become a firefighter. Unfortunately, that decision ended her relationship with Wes, who couldn't bear the thought of her in such a dangerous profession. A little less than three years later, Del is one of the most respected members of her crew and loves her job, but she desperately misses Wes. Then, during a search and rescue operation, she's knocked unconscious by falling debris.
Wesley Barrows finds himself with a major dilemma when his ex-girlfriend wakes from a serious head injury with no memory of the past few years or the circumstances that led to their breakup. On one hand, it's the opportunity he's longed for since he blew it and let her walk out the door. On the other, the fact that she's got amnesia at all is the fault of the risky occupation she chose despite his objections. When her neurologist recommends that Delaney be allowed to recover her memory without being told what's happened, Wes has no choice but take her home and act as if they're still together, which isn't a hardship when, in his heart, they always were. But as the bond between them becomes closer and more passionate than ever, Wes knows he risks losing her all over again when the truth comes out.
And if you like historical romance, Jackie's Riever is free.
P.S. A memorial fund has also been set up in Jackie's son's name. Details to donate can be found here. Any and all donation amounts are greatly appreciated.
Please share this post with your friends, and thank you so much, guys!