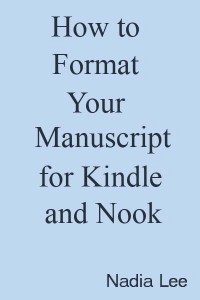 A step-by-step guide to formatting your MS Word manuscript for Kindle and Nook. It contains blocks of code, which you can cut and paste, so you don't have to write everything from scratch. It is for people who want their Kindle and Nook ebooks to look professionally prepared with a cover image, table of contents, title page and so on.
NOTE: This guide is for MS WINDOWS users only.
---
Reviews
"How to Format Your Manuscript for Kindle and Nook provides simple, concise instructions on how to successfully format your manuscript for publication on both Kindle and Nook without any advanced technical knowledge of HTML or coding. Nadia Lee is a wonderful teacher and her guide lays out a clear path to creating great-looking ebooks." -- Ilona Andrews
"This is a wonderful little book. I was able to follow the clear instructions very easily and format a short story with no problems." -- Portia Da Costa
"This short guide saved me a lot of headaches. The clear and concise directions made formatting my book for the Kindle very easy and I would definitely recommend this." -- Katie Reus
---
Excerpt
Note
This guide covers conversion process from your raw manuscript file in Word .doc to a pretty Kindle .prc, then talks about using the .prc file generated to create an epub file for Nook PubIt.
This guide also assumes that you know basic HTML and CSS. If you aren't familiar with either, please visit W3School for a brief tutorial.
Word .doc to Kindle .prc
Many writers seem interested in uploading their writing on Kindle. And no wonder. It's quick and easy way to make something short and/or too-out-there for mainstream publishers available to readers and make some money on the side. You can also use it to promote your longer works -- maybe post a short novella to tide your readers over between longer projects, etc.
L. K. Rigel mentioned that my paranormal romance novella A Happily Ever After of Her Own was very well-formatted. So did Zoe Winters. That got me thinking...maybe I should share how I formatted for Kindle. So here's a step-by-step guide.
How do you format for Kindle?
It's a lot simpler than you think, but you shouldn't use the Smashwords style guide. It doesn't look very nice on Kindle.
---
Extras
If anyone out there just doesn't want to fool with the conversion at all (even using the manual), send me an email and I'll let you know my rates for such work.
News and Updates
April 5, 2011: The 3rd edition of How to Format Your Manuscript for Kindle and Nook contains information about what to do if you have a free WordPress.com account and a sample HTML mockup so you can see what everything should look like.
March 12, 2011: How to Format Your Manuscript for Kindle and Nook has been updated with a brand new section on how to format for All Romance eBooks. Please re-download it if you bought a copy already so you can have the latest information.
How This Guide Came About
I've been getting lots of inquiries about how I convert my manuscripts to Kindle or Nook recently. So yesterday, I put up a step-by-step guide for formatting your manuscript on Kindle and Nook entitled (appropriately enough) How to Format Your Manuscript for Kindle and Nook on Smashwords. It's an expanded version of my blog post on the same topic. Since I wrote that post, I've done three more conversions and learned a lot from each experience. I wanted to share lessons learned, tips, etc. to make it as easy as possible for people to follow along and create an ebook that has a cover, table of contents and so on. (I don't like ebooks that come without a cover, though in some cases it can't be helped.)
The guide assumes that you have some basic knowledge of HTML, such as tags for paragraphs, headings and italics. But you don't need to code from scratch since the guide contains lots of snippets of code that you can easily copy and paste. (It's all done for you!) This should prevent any odd errors due to typos, etc. In addition, my understanding is that Smashwords allows buyers to download updated versions for free, provided that the author replaces the old file with the new one. I wanted everyone to be able to access the latest version easily, should I make any changes. (I'm pretty sure I will as I discover new features, shortcuts, etc.)
P.S. You need a MS Windows computer to use the guide. One of the freeware programs needed to do the formatting isn't available on Mac. Sorry, Mac users! If and when I find a suitable Mac freeware, I'll definitely update the guide and let you know.