Just want to let everyone know that I've created excerpt ebooklets for A Happily Ever After of Her Own and Carnal Secrets. Each one has the first three chapters of the book, and you don't have to sign up for anything, pay anything, or go into indentured servitude to get them, either. ;) Both are totally free!
A Happily Ever After of Her Own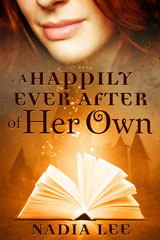 Melinda Lightfoot, a preschool teacher with an unusual ability to flit in and out of fairy tales, never thought she would get into trouble…
…until the Fairy Tale Police arrest her while she is in Beauty and the Beast. They offer her a deal: Find Beauty, who left the story when Melinda trespassed into it, or be charged with the ultimate crime — Fairy Tale Killer. If that's not bad enough the Beast tags along in search of his true love, and Melinda starts falling for the fairy tale prince. She must choose between doing the right thing and having her own happily ever after.
Warning: This title contains the following: Fairy Godmother, the Wicked Witch, dysfunctional fairy tale families, ax-wielding executioners and a happily ever after (or two).
Excerpt eBooklets
PDF
ePub
Kindle (PRC)
Sony (LRF)
Buy eBook: All Romance EBooks :: Amazon Kindle US :: Amazon Kindle UK :: B&N Nook :: Diesel eBook Store :: Kobo Books :: Smashwords :: Sony eBook Store
Carnal Secrets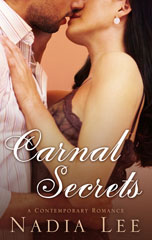 After a rapid change in management, Natalie Hall is surprised to find that she's being promoted so quickly. But when it becomes obvious that the new CEO is interested in her on a more personal level, she pushes him away — she doesn't want to repeat her past mistake of giving her heart to the wrong man.
A self-made billionaire, Alex Damon has his own reasons for pursuing Natalie. Her adoptive father, a powerful U.S. senator, is using his political clout to protect his friends the Rodales, who Alex intends to destroy for ripping his own family apart when he was a child. Furthermore, he suspects that Natalie is spying for the Rodales.
What he hasn't planned on is her unflinching sense of loyalty and integrity, the sizzling attraction between them that threatens to turn into something much more, and the dark secrets that can destroy them both.
Excerpt eBooklets
PDF
ePub
Kindle (PRC)
Sony (LRF)
Buy eBook: All Romance EBooks :: Amazon Kindle US :: Amazon Kindle UK :: B&N Nook :: Smashwords :: Sony eBook Store
The excerpts are DRM-free and you're welcome to share them among your friends if you're so inclined. Hope you like 'em! :)